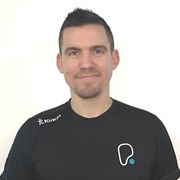 Chris Hopkins
From eight years working on cruise ships I realised my diet and exercise started to suffer. I gained weight quickly and started to feel unhappy.
I decided to leave my life at sea behind for a new life on land and put my focus into fitness, losing the weight I had gained and starting to build muscle. As my physical fitness improved, so did my mental fitness, and I felt such a positive energy.
I know how to make workouts fun, interesting and I'll create an approach to exercise that you will enjoy while constantly challenging yourself.
Specialist Areas
Body confidence
Muscle tone and development
Persistent motivation
Strength and conditioning
Weight loss
Qualifications
Level 3 Personal Trainer
Level 2 Fitness Instructor
Studio Based Boxing
Circuit Trainer
Kettlebell Instructor
Suspension Training
Emergency First Aid at Work