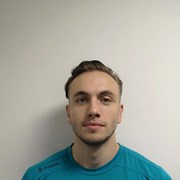 Charles Jarman-Price
Specialising in strength and conditioning, my aim is to make my clients bigger, stronger, faster, fitter, leaner and most of all, feel confident in their body.
My main interest is powerlifting and other barbell sports (Olympic lifting, Strongman and crossfit).
I can help you to excel at all of them through personalised programming and periodisation that fits your goals.
Feel free to get in touch for a free consultation.
Check out my Instagram: cjarmanprice_pt
Specialist Areas
Functional specialist
Injury prevention and rehabilitation
Muscle tone and development
Nutritional guidance
Sport specific training
Strength and conditioning
Weight loss
Qualifications
Level 3 Personal Trainer
Level 2 Fitness Instructor
Kettlebell Trainer
Circuit Training
Nutritional Advisor
English/French Bilingual