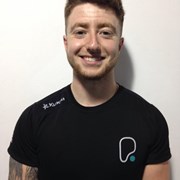 Blake Wood
Hi, I'm Blake.
I've worked in fitness for three years teaching classes and delivering programmes. From a young age I was always interested in health and fitness, training in Ju-Jitsu from the age of eight and teaching it to younger students. I became National Champion at the age of 15 in this sport. I now train in Thai Boxing and MMA.
I started lifting weights and training in a gym environment from the age of 17, starting from a very skinny frame. I managed to add on 15KG of muscle over my first two years of training. With more training I have even managed to complete obstacle courses such as Tough Mudder with ease! After seeing how much I enjoyed this new hobby which helped my confidence and motivated me, I decided to take it up as a career to help others reach their fitness goals.
There are many different aspects of fitness and whatever they are you can reach them with the right attitude! I like to change how we train on a weekly basis to keep the body guessing on how it will be shocked each day! No matter what level you are at whether it is your first time in a gym to your first full year, I am willing and waiting to help you reach any goal you have in mind.
I have already helped many people reach their fitness goals. With the right amount of commitment, motivation and the correct attitude towards fitness and the lifestyle it brings, I am eager to help you reach your goals and together we can achieve them!
Feel free to get in contact with me for a free consultation.
Specialist Areas
Body confidence
Body fat reduction
Muscle tone and development
Nutritional guidance
Persistent motivation
Sport specific training
Strength and conditioning
Weight loss
Boxing
Qualifications
Level 2 Fitness Instructing
Level 3 PT
Kettlebell Instructor
Spinning Instructor
Ricky Hatton Boxfit Instructor
Circuit Instructor
Black belt 1st dan Ju-Jitsu
First Aid Qualified
Ju-Jitsu Instructor