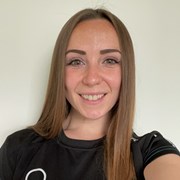 Contact
Free first session offered
Email me
Ashley Runeckles
Hi, I'm Ashley
As a professionally trained musical theatre actress and dance teacher, I have always had to work hard to keep my body fit and strong to ensure that I'm always "show-ready".
Fitness goes well beyond having a particular aesthetic, and my dance background combined with 6 years of weight training experience have helped me to develop and apply the fundamentals of training, whilst keeping it fresh and fun!
I know how daunting it can be walking into a gym and not feeling like you fit in, or even knowing where to start. We all want to look and feel our best, but sometimes we just need a little encouragement and know-how. 
So whether you want to work on your weight, strength, technique, mobility, or all round general health, come find me on the gym floor or drop me a message and let me get you started on your journey to a happier, healthier you!
Specialist Areas
Body fat reduction
Nutritional guidance
Strength and conditioning
Weight loss
Qualifications
- Level 2 Gym Instructor
- Level 3 Personal Trainer
- First Aid Qualified
- Dance Instructor