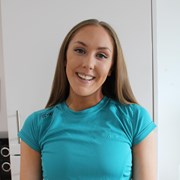 Antonia McKenna
You've made the first step, you're here in the gym! I want to help you get the most out of your time here at PureGym and can help you to do so with tailored exercise plans and nutritional guidance to suit your goals. Whether it be fat loss, weight loss, muscle gain/toning or just general confidence building! 
I'm Antonia and I started my own journey in 2017, and I know what its like- stepping into a gym is scary and the safest space seems to be walking on the treadmill for 30 mins and then going home! But I want to build your confidence to walk into the gym with your head held high, knowing exactly what it is you need and want to do! 
I found strength training to be the most rewarding personally and I could physically see a difference in my overall body shape, but the feeling of becoming stronger and stronger is something I cannot describe until you yourself feel it too, and you will! Never underestimate what your body can do because it is amazing. 
Exercise shouldn't feel like a chore. And working together we can create an exercise plan that you enjoy, helps you to reach your goals, and most importantly fits around your lifestyle!
I hope we can work together soon. If you have any questions, don't be a stranger! Drop me a message or if you see me in and around the gym come and say hi!
Specialist Areas
Bespoke plan
Body confidence
Body fat reduction
Muscle tone and development
Weight loss
Qualifications
First class degree Bsc Hons Exercise and nutrition as medicine
Level 2 Gym Instructing
Level 3 Personal Trainer