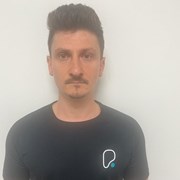 Alexandru Macovei
I'm Alex, and I've been involved in the fitness industry for over 10 years, ever since I was in primary school.
I've worked with professional bodybuilders who compete in national fitness competitions, and in 2010 I won the National Romanian Powerlifting Competition.
My goal for you is to match your lifestyle and thoughts with my ideal plan so that you progress at the proper speed toward realistic living without taking extreme actions.
I'll make sure you're on track, maximizing your time and energy, and most importantly. I'll show you how to lead a healthy, balanced lifestyle.
Even if your day hasn't been the greatest, I'll adjust to your level of energy and try my best to offer you an exciting session.
Because I enjoy what I do and you can tell, the smile will always be present.
Specialist Areas
Body confidence
Muscle tone and development
Nutritional guidance
Sport specific training
Strength and conditioning