Veggie Bean Burger Recipe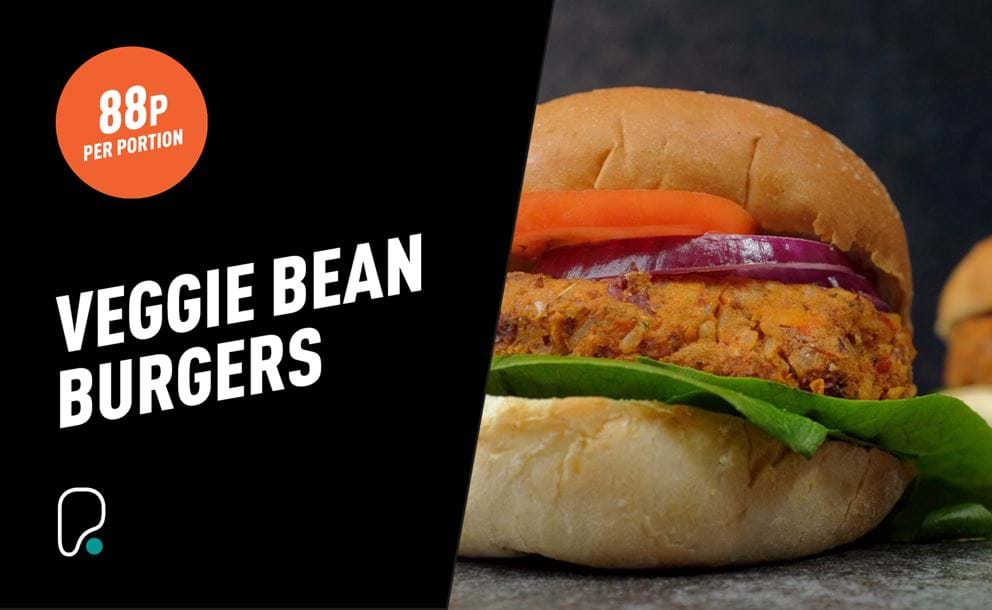 We love a good burger and this veggie recipe is one not to miss out on! Made with kidney beans, nuts and veggies, this burger packs more fibre, vitamins and nutrients than your average meat burger and it still tastes amazing! Plus it costs less than a £1 per serving! Eating well for less couldn't be better. Watch the video below to see how to make this recipe at home and give it a try
You can store these in the fridge for up to 3 days or freeze them for up to one month so you can make a batch of these in advance too.
Ingredients
Serves 4
Price Per Portion: 88p
1 white onion (chopped)
1 carrot (grated)
1 red pepper (diced)
3 garlic cloves (chopped)
Low-calorie oil spray
2 tbsp tomato puree
2 tsp mixed dried herbs
1 tsp oregano
2 tsp ground flaxseed
400g tin kidney beans, drained
200g cooked brown rice
50g chopped cashew nuts
Black pepper (to taste)
2 tbsp Almond Flour 
4 Brioche Buns
 Method:
Spray pan with low-calorie oil spray and add onion, garlic, dried herbs, oregano, red pepper and tomato puree.
Stir fry for 3 minutes until vegetables have softened.
Chop beans and rice in a blender and then add the onion mix, carrot, flaxseed, nuts and season with pepper.
Blend briefly and then chill the mix in the fridge for 15 minutes.
Dust work surface with almond flour and split your mixture into 4 portions.
Make 4 burger shapes and then place on a baking sheet and chill again for another 15 minutes.
Spray a pan with low-calorie oil and pre-heat to high, before frying the burgers until brown. This can take around 10 minutes.
Serve on brioche buns with onion, lettuce and tomato.
Why not try out vegan pizza recipe? Click here to get the recipe.