Strawberry Cheesecake Overnight Oats Recipe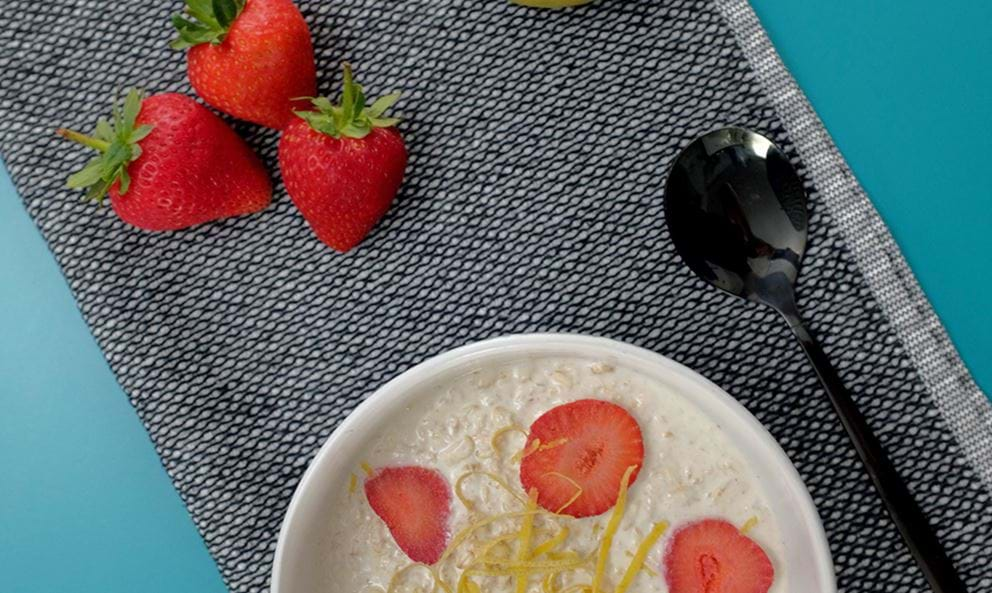 Dessert for breakfast? We say yes with this healthy strawberry cheesecake overnight oats recipe! Oats are a great source of important vitamins, minerals, fiber and antioxidants which is why we love this breakfast staple. This recipe can be prepped in minutes by combining the ingredients into a bowl or jar the night before so it's super easy and quick to make.
Ingredients
Serves 1
100g 5% fat Greek yoghurt
40g rolled oats
120ml protein shake drink
1 crushed digestive biscuit
2 tbsp sugar-free maple syrup
50g chopped fresh strawberries
2 tablespoons low fat softened cream cheese
Zest and juice of 1/2 lemon
Method:
Crush up a digest biscuit and place into the bottom of your serving dish.
In a mixing bowl combine oats, yoghurt, protein shake, cream cheese, maple syrup and juice of half a lemon.
Mix the ingredients together to make a creamy oat mixture and place half into your serving dish, top with a few strawberries, then add the rest of the oat mixture and again top with the remaining strawberries.
Top with the zest of one lemon.
Leave in the fridge overnight to set. You can make batches of this in Tupperware to take to work for up to 3 days in advance.
For more easy breakfast recipes check out our healthy kick breakfasts guide.
Healthy meals delivered straight to your door
We've partnered with Musclefood, to help you give your nutrition a boost with their meal solutions. Build your own box from a range of breakfast, lunch, dinner, and snacks options delivered straight to your door, making eating healthier a whole lot easier. 
Click here to find out more
.