Easy and tasty health-kick breakfasts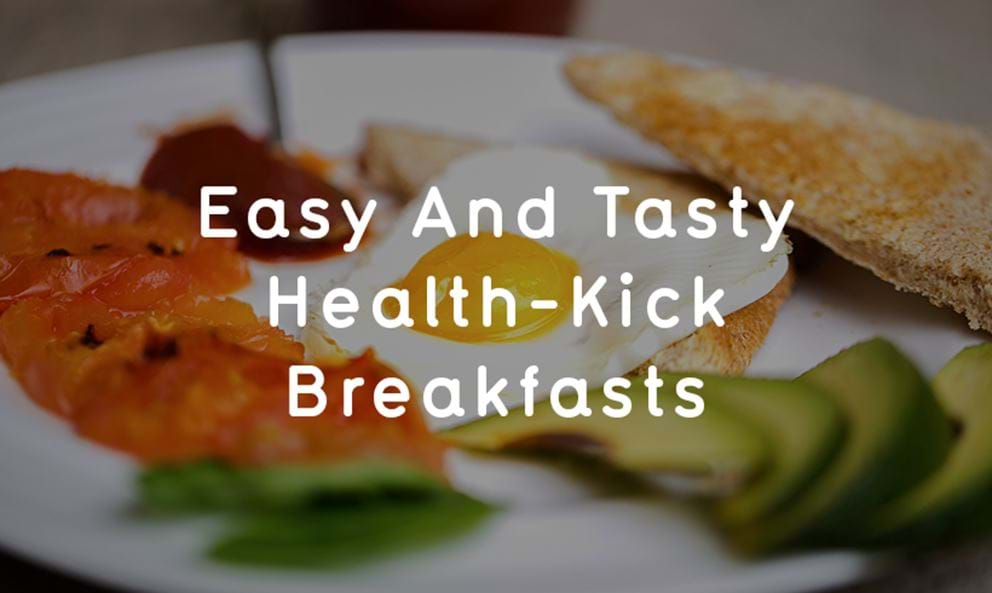 They say that breakfast is the most important meal of the day, and although the intermittent fasters might disagree, there is something to that.
What you eat for breakfast sets the pace for the rest of the day. It determines how much energy you'll have for the next few hours and how soon you'll become hungry again. It starts you on the course to meeting your daily nutrition goals (or, if you do it wrong, of throwing you completely off track) and it can even affect your mood.
Some studies even suggest that a healthy breakfast can make kids and adolescents smarter during the day.[1]
So to help you make good choices, here are a few easy, tasty, nutritious breakfast options to explore. Bon apatite.
High protein paleo power fry-up
The traditional fry-up is popular for a reason. It's delicious, it's heavy, and it's easy to make. It's also high in protein. Aside from the obvious benefits for aspiring muscle-monsters, studies have found that high protein meals increase energy expenditure and keep you feeling full for longer – meaning a high protein breakfast is also a great way of keeping hunger at bay for hours to come.[2]
This meal is the perfect high-calorie start to the day for anyone with a physically demanding job or aspirations of packing on slabs of muscle.
The protein and calorie content will keep you feeling full for hours to come, while the mixture of fats will help to support good hormone function, and the leafy greens will add some micronutrient balance.
This meal contains roughly:
987 calories
58g of protein
77g of fat
Thiamine, riboflavin, folate, iron, magnesium, vitamins C, K, and B6
Instructions
Add 3 eggs to a pan, along with 20g of coconut oil.
Add 1 cup of spinach.
Fry the ingredients together and remove when done.
Add 100g of bacon to the pan and remove when done.
Finally, add 1 cup of kale into the pan, and fry until it's good and crispy.
Nutrient bomb green smoothie
Green smoothies are all the rage these days, as more and more people begin to wise up to the power of vegetables – particularly leafy greens like kale and spinach, which are rich in many of the key micronutrients which people are frequently deficient in.
You can prepare this green smoothie in just a few short minutes, as a calorie-light breakfast on-the-go with enormous micro-nutritional benefits – perfect for those people who want an energy and mood boost in the morning, but who hate feeling overfed.
Among other things, this smoothie will contain:
326 calories
Thiamine, riboflavin, folate, iron, manganese, magnesium, phosphorus, potassium calcium, vitamins C, K, B1, B6, zinc, and selenium.
Instructions
Add the following to a large blender and blend well:
1 cup of spinach
1 cups of kale
1 cup of bok choy
1 cup of blueberries
2 cups of coconut water
10g flaxseed
10g chia seeds
Fantastic fibre breakfast bowl
Fibre is a critically important nutrient, and one which often goes ignored until a sudden bout of gut disturbance causes us to go seeking it out like crazy.
Among other things, research has shown that a high fibre intake is correlated with lower body weight, better cardiovascular health, and better gut health.[3]
On top of that, a high fibre meal has been shown to keep you feeling fuller for longer, and reduce food cravings later in the day.[4]
This meal is designed as a light way of vanquishing the hunger pangs fast, so that you can meet the day head on without slipping into a food coma along the way.
This breakfast bowl will contain approximately:
200 calories
10g of fibre
 In addition to 4,500mg of Omega 3 fatty acids, among other assorted micronutrients.
Instructions
Add the following to a bowl and mix well:
¼ cup of chia seeds
2 cups almond milk
2 tbsp. maple syrup
1 tsp vanilla
[1] https://www.ncbi.nlm.nih.gov/pubmed/19930787
[2] https://www.ncbi.nlm.nih.gov/pubmed/18448177
[3] https://www.ncbi.nlm.nih.gov/pmc/articles/PMC3705355/
[4] https://www.ncbi.nlm.nih.gov/pubmed/23885994