Sticky Toffee Protein Mug Cake Recipe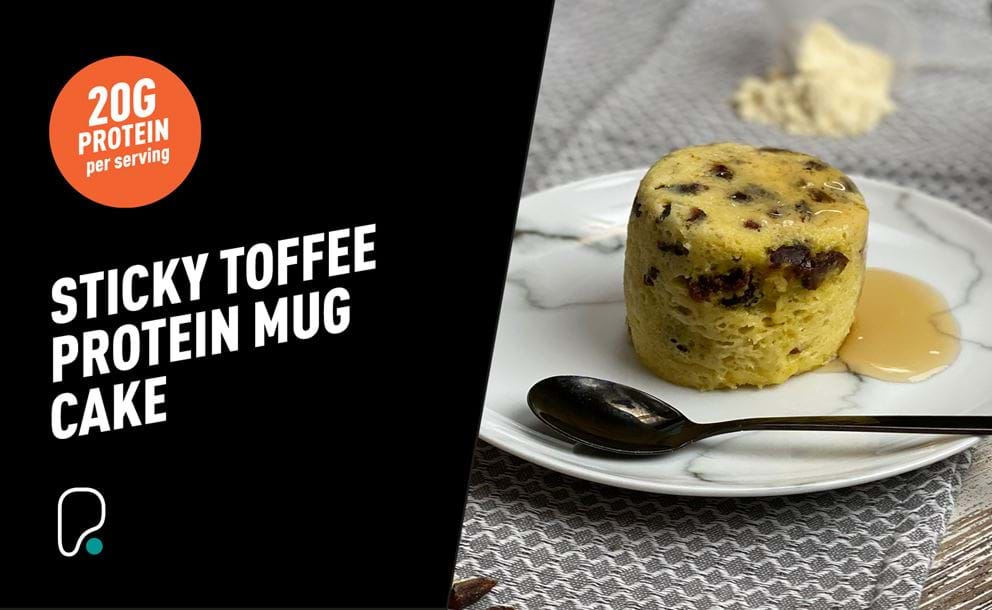 We've whipped up this sweet and sticky healthy take on the classic sticky toffee pudding to get you in the bonfire night spirit. This protein mug cake is only 268 kcals and has 20g protein per serving. The best bit? It's quick and easy to make so you can whip it up and enjoy in 10 minutes - perfect to hit those sweet cravings.
Ingredients:
1 tbsp milk (or plant mylk alternative)
6 dates - chopped
1/2 tbsp sugar free sticky toffee sauce (and 1 tbsp for the toppings)
1/2 tbsp light butter or spread
1 tbsp self-raising flour
1 tbsp vanilla protein powder 
1/2 tsp baking powder
1 beaten egg
1 dessert spoon powdered sweetener
Method:
Add the milk (or plant mylk alternative) and light spread to a mug, and gently heat in the microwave until warm. 
Add the chopped dates to the mug.
Stir in the sugar free toffee sauce, baking powder, flour, protein powder, egg and sweetener.
Stir the mixture well with a fork to break down any lumps, until you get a smooth consistency.
Microwave on high for approximately 1 minute - but this is dependent on the power of your microwave so keep your eye on it. The cake should be springy to touch. If not, give another 10 second burst.
Either eat straight from the mug (be careful it may be hot) or tip onto a plate to serve.
Drizzle over the toffee sauce and enjoy!