Spicy Miso Chicken Ramen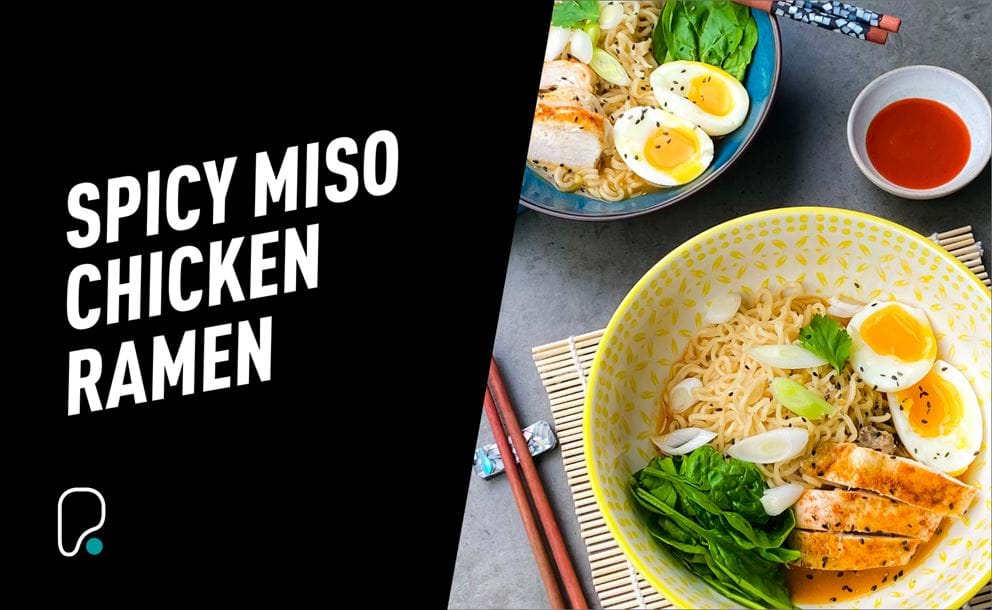 This week's recipe is a Spicy Miso Chicken Ramen, which is a tasty noodle soup dish. Ramen originated in China but made its way to Japan and is now a staple in Japanese cuisine, with lots of different regional variations.
Our Spicy Miso Chicken Ramen is packed full of flavour and perfect for when you're looking for something comforting yet light and wholesome.


Ingredients (serves 2)
800ml chicken / vegetable stock 

1 inch of ginger, crushed 

3 cloves of garlic, crushed

1 tbsp miso paste 

2 tbsp soy sauce 

1 tbsp sriracha sauce 

1 tbsp sesame oil 

½ tsp rice wine vinegar 

2 x ramen noodle nests 

150g chicken breast 

½ tsp garlic granules 

¼ tsp chilli powder 

¼ tsp black sesame seeds
Toppings
2 soft-boiled eggs 

2 spring onions, sliced

60g spinach

½ tbsp black sesame seeds
Method
Preheat your oven to 200c. 

Add chicken breast to an oven proof dish and top with chilli powder, garlic granules, a pinch of black sesame seeds and a few sprays of low-calorie oil spray. 

Place the chicken into the oven for 25 minutes, until cooked through, and then slice ready to top the ramen.

While the chicken is cooking make your soft-boiled egg. This can be done in advance and refrigerated to make the process quick and easy if you would prefer. To do this place eggs into a pan of boiling water and leave to cook for 4- minutes, then put them straight into a bowl of cold water to stop the cooking process. 

Next, in a large pan add stock, ginger, garlic, miso, soy, sriracha, sesame oil and rice wine vinegar and bring to the boil. Reduce the heat and simmer for 10 - 12 minutes. 

Then add ramen noodles to the pan and simmer for a further 2 - 3 minutes until cooked. 

Divide noodles and ramen broth between two bowls and top with sliced chicken, soft boiled egg, spinach, spring onions and a sprinkling of black sesame seeds.

For extra heat add another squeeze of sriracha.