Sarwan's Story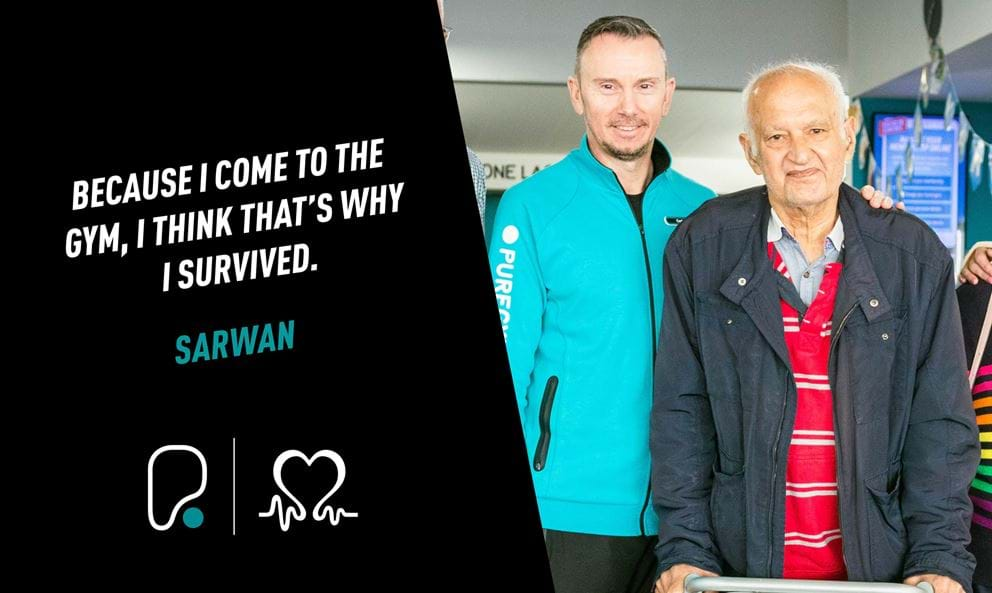 In the UK, 1 in 4 people will get a heart or circulatory disease in their lifetime, which is why looking after your heart health is so important. We want to share some incredibly moving heart stories from inspiring PureGym members – all to raise awareness of heart and circulatory disease.
Today's heart story is Sarwan's, told by his son Ajay after his father suffered a cardiac arrest in PureGym Loughborough last year and was saved by the staff and members. Here is Sarwan's story:
I'm Ajay. My father Sarwan suffered a cardiac arrest at PureGym in 2021.
My father and mother visited PureGym very regularly, they have been members since the gym opened and would sometimes go to the gym together 5 times a week and sometimes twice a day!

I was at work one day when I took that call that nobody wants to take. It was a nurse at the Glenfield Hospital who said, "Your dad is here, he's in the operating theatre and we don't think we're going to get him back, so please can you get here as soon as you can"
Suddenly your world is turned upside down.
Carl the Gym Manager at PureGym was just about to start teaching a step class when he got the call that my father had collapsed on the Gym floor. Carl found him unconscious, checked for a pulse and unfortunately couldn't find one.
That's when Anna, a PureGym member and firefighter came over to help too. Anna also checked for a pulse, but couldn't find one and my dad had started to turn blue so commenced CPR whilst Carl went to get the defibrillator on-site and called an ambulance.

After shocking my father with the defibrillator once, they started compressions and breaths and managed to get a pulse back. They continued until the paramedics arrived around 10 minutes later.
If it wasn't for the wonderful and well-trained staff and members of PureGym, my dad wouldn't be here.
My father thankfully has had a successful operation to have stents implanted into his heart and is making a very positive recovery, thanks in large part to the fact that PureGym had a defibrillator, that the staff were well trained in terms of how to respond and how quickly the staff and members all pulled together.  My dad, at the age of 77 and thanks to his commitment to the gym is also a very fit man which helped enormously.
As part of this moving heart story, Ajay and his father, Sarwan, visited PureGym Loughborough for the first time since the incident to see Carl and Anna, who saved Sarwan's life.
It was a really emotional moment, and Carl told us "When Sarwan said thank you very much for saving my life, I just absolutely broke! We shed a few tears and gave each other a big hug!"
Sarwan and his wife have a really strong relationship with the PureGym team, even before the incident and told us, "The PureGym staff are wonderful, they really care about us. It's not just about being a member of the gym, but as a human being."

Since the incident Ajay has been working hard to get more people thinking about the importance of CPR. He's taken all his team at work through CPR training, first aid training and has had a defibrillator installed in his office.
Sarwan puts his recovery down to keeping fit and healthy and having a strong heart, he says "Because I come to the gym, I think that's why I survived. People are here to help you, but you have to look after yourself first."
Inspired by Sarwan's story? Learn how to save a life, like Carl and the PureGym community did for Sarwan. When unexpected things happen, it's vital to know what to do and can save a life.
With the help of British Heart Foundations life-saving free courses, you can learn to do CPR and use a defibrillator in just 15 minutes on your mobile or tablet. Click here to find out more.
WE ARE PROUD TO BE THE OFFICIAL GYM PARTNER FOR THE BRITISH HEART FOUNDATION
We've partnered with the British Heart Foundation to help inspire a healthier nation, one heartbeat at a time. With the help of our partners (and heart experts!) the British Heart Foundation, we want to get more people
thinking about their heart health.
Click here to find out more about our partnership with the British Heart Foundation and learn more about how to look after your heart health.