Rise And Shine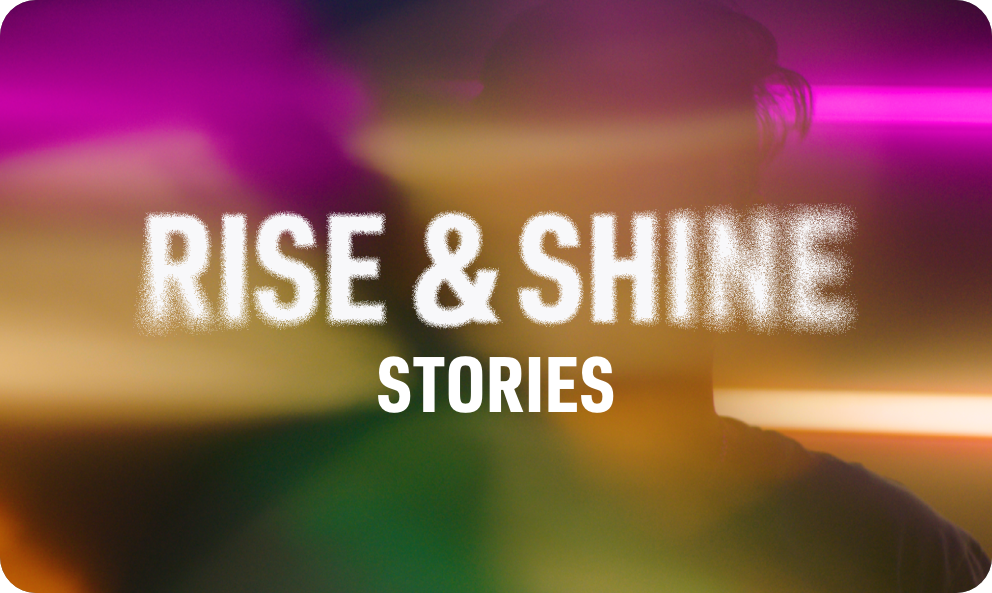 Pride Month is a great way to celebrate the LGBTQ+ community and raise awareness of the issues that can affect the community. This Pride, we're encouraging all PureGym employees and members to 'Rise and Shine' for the LGBTQ+ community.
In 2021 we established our LGBTQ+ Employee Network Group which focuses on important initiatives throughout the year to strengthen our commitment to make our workplace and gyms truly inclusive for LGBTQ+ people.
Here, we've asked our LGBTQ+ Employee Network Group Ambassadors what Rise and Shine means to them.

Seb, General Manager
What does Rise and Shine mean to you?
Being proud of who you are. We all think about bright sunshine in the morning, but bright sunshine would be the development from a teenager growing up, the confidence you build throughout the years. I think we're still on that journey of rising and shining.
Growing up in a small village, coming out, facing a lot of homophobia, I think that just grew on me. I'm from Sweden, so I'm used to not really having a gay community and being part of a bunch of people who are the same as me. So, moving here and being part of that has been a great year and journey.
I think being part of the LGBTQ + community, we all must stand together. We're still the minority today and we need to work together to push for our rights in society.
To be a better Ally try to educate yourself, educate yourself in the community and the history, know what we've gone through to be where we are today. Educate yourself in all the identities that you can have. I think a lot of people today don't know about any of this and the more you learn and understand, then the easier it is to become an Ally.
My passion is to make everybody feel welcome, like our slogan is one of my passions. Hence why I joined the Ambassador Group for employees to make sure both staff and members are feeling welcome and make sure they can be themselves in our gyms.
I don't think normal exists. No one's normal. Everybody's different.

Jenna, Assistant Gym Manager
What does Rise and Shine mean to you?
Literally stand up for yourself. Shine, be what you are. If that isn't good enough, that's not your problem. You'll be happier, more confident, more outgoing, more comfortable if you just be who you are. If being who you are is shy, be shy. Rise above everything else.
Pride means love and for people to be accepting of what you are. I think that's most important for me, especially as I've always been myself. If people don't like it, then I don't want to have anything to do with them. If you don't like it, you don't like me for who I am.
I found true happiness, got married almost two years ago and it's been the best two years of my life because I am married and knowing that I've got this extended family, it's just fantastic. Having that full support from everybody and being able to do what we want. My little family is made up of me, my wife, Mandy, and my two stepchildren, Matilda, who's 13, and Sukie, who's 11, and the four of us are just a really strong unit that will go off and do all these different things together.
We love how normal it is to have two mum's or two dad's, it's so accepted and talked about these days and great to see that they aren't the only ones in school with same sex parents. 
It really upsets me and breaks my heart to see people that are hiding who they are.
Being myself at PureGym is the easiest thing that I've done throughout the whole of my life. I've not only got support from my team members, but I've also got support from my Gym Manager, Cluster Manager, Regional Manager and everyone else in between. It's the most supportive company I've ever had the pleasure of working for, and it makes going to work so easy and so enjoyable. I wouldn't change it for the world.

Alex C, Assistant Gym Manager
I shine the most when there's music. I love music, I love dancing, I love listening to music. It just makes me feel so just liberated. I think any jam or anything, it just makes me light up. I shine when there's any form of music, any form of dance, any form of just being able to express through sound, through the rhythm, through melody, through the bass. So, music allows me to be me and just shine.
I identify as non-binary. I don't see myself as male or female. I'm non-binary gender fluid androgyny.
When I'm out in public and I go into the women's bathrooms, and then immediately everyone's got this uncomfortability about them. They're like, 'am I in the wrong?' I've had people walk in and then walk back out, look at the door and then walk in.
Someone can be a better Ally by simply respecting and understanding. Even if you don't get something, it's knowing you have a base level of respect. Even if you don't quite understand something yet, it's the openness and willingness to understand and listen. For example, if I'm telling you I identify as this, there should be no question about it, and I will respect you throughout my journey as an Ally. You know, being an Ally is basically just respecting and openness to hear someone out.
For those that are struggling with their identity please know that there's always a way, you're going to find that way and you're going to look back in 15 years or so, and you're going to be exactly who you want to be. I look back now and I'm exactly who I had in my head that I wanted to be and I'm glad that I just kept going.

Charlotte, Gym Manager
What does Rise and Shine mean to you?
A phoenix rising from the ashes.
Choose your people. Don't be afraid to be you. I think it's a lot easier said than done, especially with family where there's not a lot of family acceptance when identifying as gay. But find your people. My friends get me through everything so you can create your own little family in a controversial world.
In the last five years I felt more accepted within the community. I chose my friends very wisely. The people I have in my life now are for a reason, because they add value to my life and that gives me freedom.
It's okay to choose your own people. It's okay not to fall in line.
My advice around mental health is you don't always know what people are going through. They could be going through something that you might deem as a really small, insignificant thing. But for that person, it's actually a massive deal.
Listen. I think listening is the biggest part and you don't need to speak. You don't have to have the answers for everything. I think listening helps.
I hope our PureGym LGBTQ + network ambassador group will help to achieve people being comfortable in their own skins, not afraid to be themselves and realising that mental health is a huge part of our community and ensuring that people know that we're there to support them.

Alex, Facilities Insight Manager
What does Rise and Shine mean to you?
Being supportive of each other, being able to lift each other up. I think we all need to do that. We need to support each other. We need to be there for each other so that we can all be ourselves. And that's when we shine.
I think I'm trying to show that you can be your whole self and still be successful and still be able to have a career. You don't have to hide yourself in order to be able to do everything you want to do. If people can relate to the fact that somebody who's got a lot of tattoos, who's openly queer, who's made it, who's got a career, who's managed to get to a good position in the company, maybe other people can relate to it and feel a bit freer to be themselves as well.
Our Allies are important. Everybody needs a support network because everybody's got good days and bad days. Unfortunately, being queer sometimes you get more bad days than you otherwise would and having people to be there with you and help you fight the battles is a really good reassurance.
You can do things like supporting people coming out and not being judgemental, not saying things like, 'why did you have to do that?' Or 'Why can't you just be like everybody else?' It's about letting go of who you think people should be and allowing them to be who they actually are.
My role model probably be my dad. Unfortunately, he passed away when I was quite young but he was the one who never really treated me the way other people used to treat little girls. He taught me how to change a tire on a car, how to mess around with electricity in the house, how to ride a proper boy's bike that was two sizes too big for me, but that didn't matter. He always pushed me to be to be better and to be the best that I could be. I think I owe my life for that.

Billie, HR Co-Ordinator
What does Rise and Shine mean to you?
Rise for the community as an Ally to support people and rising for yourself as well and just be who you are.
Pride is being visible. It's people being able to see and understand and be free to be who they are.
I have been working on helping to make PureGym a more inclusive workplace by adapting the language that we use in certain policies so it's more gender neutral instead of specifying male and female. I have also developed a transitioning at work policy to guide managers and support people who are transitioning at work through that process. We are part of Stonewall's Diversity Champions Programme and also listen to the voices of our own people through our LGBTQ+ Employee Network Group, so we this is something we are continually learning about and improving on. However, I think it needs to spread wider than that, it's a society thing, not just a PureGym thing, because there's so many levels of change that needs to happen.
I think people are more accepting these days, but I also think there's more that can be done to make it obvious that you are accepting as an Ally. Things like with the language that you use; you can make it more inclusive from the get-go so that people feel safe to be who they are. Also, respecting people's pronouns if they ask you to use certain ones, I think is important.
I always get asked like, have you got a boyfriend? And I think it's so easy to just say, have you got a partner? If you're having those sorts of conversations.

Jamie, PureGym Group Procurement Director
What does Rise and Shine mean to you?
Rise is about standing up. Shining is about being who you are.
Pride is absolutely about celebration. I've actually got a lot of straight friends that love coming to Pride, and I think that it shouldn't just be about the LBGTQ + community. I think it probably should be celebrated by everybody. I think it's great that it's taken so seriously now and is a real big event around the world. I think the more people that celebrate it, the better, the more the message gets out.
I've worked in a lot of businesses where it's very male orientated. Leadership is male, and I worked in sports betting for a while where if you can't talk about football or sports racing and various things you don't really tend to fit in. I chose to not really be myself in previous employment, and you find you develop a thick skin over a period of time anyway.
Having people support you, being by your side, somebody that you can turn to if you've got an issue or need some help is really important. So you don't feel alienated, you don't feel lonely, you don't feel like you feel isolated. I think being surrounded by like-minded individuals or Allies is really  important.
It's okay to be yourself. It's okay to be comfortable. You should be confident with who you are.
---
At PureGym, everybody is welcome all year round – not just for Pride Month. We strive to make our gyms a safe space for everyone and have worked with our LGBTQ+ network group to review our policies and set an action plan and objectives to make PureGym a more inclusive space. 
We're also helping to raise awareness and educate our members on how to be a better ally to the LGBTQ+ community – you can check out some of the information we've shared on this topic here. 
Want to learn more about our LGBTQ+ network group team members? Watch our Rise and Shine campaign video here to find out who they are, and what they wish to represent.