The PureGym Over 50s Fitness Championships: Meet The Champions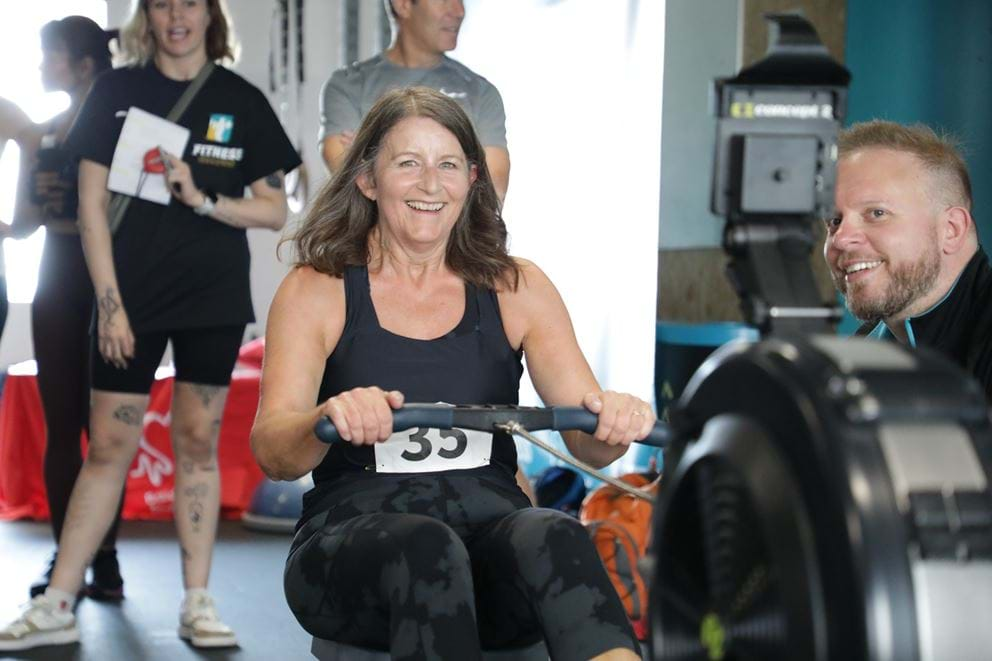 The Events | Participants | Winners | Keeping Fit
The phrase 'you're never too old' has never been truer than it is at the gym. On a daily basis we see senior members smashing PBs and keeping fit later in life – we're even lucky enough to be working with one of the oldest personal trainers in the United Kingdom, 78-year-old Edward Diget, based in Milton Keynes.
Despite this, most fitness focused competitions, be it weightlifting or athletics, have age categories that end at the age of 35, or are more focused on younger competitors, which doesn't feel particularly fair to us when there's so many people aged over 50 continuing to raise the bar, be it on the track, or the weightlifting platform.
So, with that in mind, early in September 2023, we held the first ever dedicated Over 50's Fitness Championships, to show that you can have strength, endurance, and mobility at any age, and inspire more people to take up exercise later in life.

How Did The Event Work?
The Over 50's Fitness Championships was a one-day event hosted at our London Swiss Cottage gym, in collaboration with the British Heart Foundation. The competition was open to all, with no previous participation at other fitness-based events required - entrants simply needed to complete an entry form to apply.
The competition consisted of two separate events that covered all-out strength, as well as a challenging mix of endurance, power, and mobility. These were:
Strength

Consisting of three big lifts, participants were scored on the % of their bodyweight lifted for the following:
Bench press
Front squat
Deadlift
Full-Body Fitness Sprint

Putting endurance and full body fitness to the test, participants had to complete a varied course of exercises the fastest. This quickfire fitness race was made up of the following:
1km run
Sled push (75% bodyweight)
1km row
Farmers carry (50% bodyweight)
500m ski erg

Who Took Part In The Event?
With more than 50 competitors taking part, the day really gave meaning to the phrase 'you're never too old', as people from all walks of life took to the gym floor and logged impressive lifts and sprint times throughout the day. Winning lifts included a 220kg deadlift by Clifford Macduff, a 62-year-old from London and a 52.5kg bench press performed by Noreen Kay (58).
Among the competitors were husband and wife duo Richard and Sally Boutal (both 63), from Hitchin in Hertfordshire, who both competed in the sprint event with impressive times of 15 minutes 35 seconds and 17 minutes 7 seconds respectively. Speaking about their shared love of fitness and exercise, they said "our main motivation for working out is just everyday things. You know, we want to be able to put our bags in the overhead lockers, so be able to lift 20 kilos. If I fall, I want to be able to get up again when I'm 90. The feeling of being strong and well is just great."
Harry (54), who came third in the men's strength competition commented on the day:
"I really enjoy the fact there's no animosity. Everyone [here] is congratulating each other and pushing each other on. I like that kind of collaborative feeling, it's not about what you're doing personally – it's about everyone doing it and getting fit at the same time."

Who Were The Winners?
Prizes that included free 3 year PureGym Plus Memberships were awarded across both strength and sprint sides of the event, with individual prizes also awarded for each lift in the strength competition.
In the strength competition, the overall winner from the men's category was 52-year-old Ricky Francillia from Enfield who completed the lifts at an overall 498% of his bodyweight.

Allison Rodger (62) topped the charts for the women's section, with lifts of 42.5kg, 100kg and 65kg in the bench press, deadlift, and front squat, respectively. However, Allison hasn't always been a big gym goer:
"The fitness of my youth got a bit lost in time

and resulted in weight gain and very little activity as I reached my late fifties, until one moment in particular made me make a change for the better. I had to run for the bus, but when I made it, I was so out of breath I said to the driver 'I really need to do something about this'. 
Since then, I joined a gym and have gone from not knowing how to use any of the equipment, to getting stronger and faster than people decades younger than me! To be standing here today just taking part, let alone being a winner, is a huge achievement for me, and should show anyone, no matter their age, that they can do it too".

 

The Full-Body Fitness Sprint was a hotly contested event, with participants all giving it their best effort, tackling the 1km run and 1km row alongside the sled push, farmer's carry and gruelling 500m ski-erg on their way to the finish line.
The fastest time of 11 minutes and 23 seconds was clocked by Steven Price from Gloucester who puts his fitness at the age of 52 down to being a part of the growing HYROX community, having met like-minded people who all help to push one another. In the women's category, Heather Avul (50) from Leicester topped the charts with her time of 13 minutes 49 seconds. For those who're hoping to become fitter and stronger in later life, her advice was:
"Just go for it. I started running in my 40's and I'm 50 now and running the London Marathon a second time. Get up there and do it, because it's never too late to be able to get fit." 
The full list of winners can be found below:
Strength

Front squat
Male: Ricky Francillia – 139%
Female: Allison Rodger – 114%
Bench press
Male: Clifford Macduff – 144%
Female: Noreen Kay – 79%
Deadlift
Male: Clifford Macduff – 234%
Female: Noreen Kay – 181%
Male – Overall
1st – Ricky Francillia – 498%
2nd – Harry Vekeria – 486%
3rd – Clifford Macduff – 484%
Female – Overall
1st – Allison Rodger – 364%
2nd – Noreen Kay – 351%
3rd - Terri Joseph – 345%
*percentages are % of bodyweight lifted
Sprint

Male – Overall
1st – Steven Price – 11 minutes 23 seconds
2nd – James Manly – 11 minutes 51 seconds
3rd – Robert Sands – 12 minutes 34 seconds
Female – Overall
1st – Heather Avul – 13 minutes 49 seconds
2nd – Anne-Laure Trehorel – 14 minutes 23 seconds
3rd – Janette Cardy – 14 minutes 57 second
Why Is Keeping Fit Later In Life So Important?
Exercise has been proven to have an overwhelmingly positive effect on a person's health, regardless of age. British Heart Foundation (BHF) funded research has shown that keeping active as you age lowers the risk of heart disease, stroke, diabetes and osteoporosis.
According to the BHF, exercise can help everyone live a happier and healthier life. When it comes to the heart, exercise can reduce your risk of heart and circulatory diseases by up to 35%.
Regular exercise can also help reduce blood pressure and cholesterol; two factors which can increase your risk of developing heart and circulatory diseases as we get older.
British Heart Foundation attended the day to provide advice to competitors who are interesting in improving their heart and circulatory health, as well as raise awareness of their partnership with PureGym. 

Sophie Overall, Partnerships Manager at the British Heart Foundation commented:
"Our partnership provides an exciting opportunity for PureGym and the BHF to combine our expertise on fitness and heart health together and to the public just how intrinsically they're entwined. This competition was an excellent way to showcase that age is just a number and with the right support, anyone can start their exercise journey."


Though the physical benefits in later life are clear, it was also evident from the event that fitness gives people much more than just a physically strong body. While talking to people at the event, people spoke of how fitness has given them the ability to keep up with their grandchildren playing outside, have the energy to maintain a thriving social life both in the gym and outside of it, and also another way to relax and have fun.


Dave Cross, PureGym Group Ex Manager, Master Trainer, and judge at the event commented
"I'm incredibly proud that we were able to host the first over 50s weightlifting and sprint championships, to create a space for gym goers over 50 to be able to celebrate their achievements and showcase the amazing levels of fitness that are possible for this age group. Each and every competitor at the event brought their A-game and pushed themselves further than ever before – as shown by the huge number of personal bests achieved in the strength section! The camaraderie and support shown by the participants was something very special to witness, and it was clear that friendships were being forged through a shared love of fitness too."
Anyone, no matter their age, should be able to take part in fitness and achieve their goals no matter how big or small. The Over 50's Fitness Championships was a true celebration of this, and it was incredibly inspiring to see each and every competitor celebrate not just their own wins, but also those of others, whether or not it was a PB or a title-winning lift.
If you've been inspired by the competitors of our first ever Over 50s Fitness Championships, take a look at our gym membership options, or how you could work with a personal trainer to reach your goals!