SEEN, HEARD & PROUD STORIES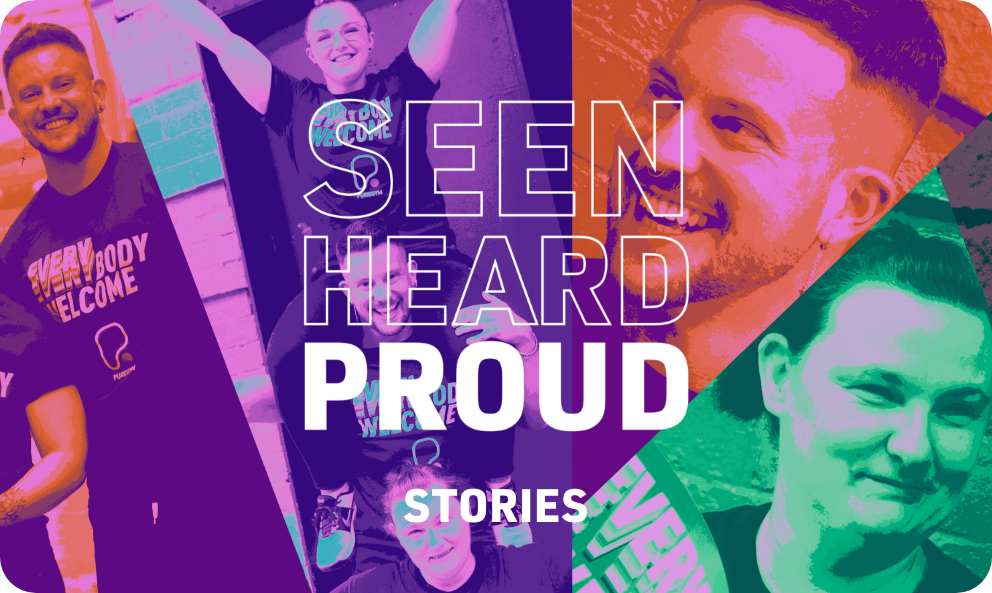 Pride Month is a great way to celebrate the LGBTQ+ community and raise awareness of the issues that can affect the community. With research from Stonewall suggesting 1 in 8 LGBTQ+ people avoid gyms and group sports due to fear of discrimination, together with our LGBTQ+ employee network group, we aim to raise visibility in the fitness industry and share stories of overcoming gym anxiety to inspire others.
In 2021 we established our LGBTQ+ Employee Network Group which focuses on important initiatives throughout the year to strengthen our commitment to make our workplace and gyms truly inclusive for LGBTQ+ people.
Here, we spoke to our LGBTQ+ Employee Network Group what Pride means to them, how they create a welcoming space in their gyms, connect with the wider LGBTQ+ community in their areas and tips to overcome gym anxiety.

What does Pride mean to you? 
Pride means acceptance and being proud of who I am and stating this is me, sitting back and reflecting on how far our community has come and to celebrate the progress we made.
How do you make sure PureGym is a safe and welcoming space?
The gym team have been upskilled in all different ways to make sure they can make everybody feel welcome and safe in the gym. We have an e-learning module for all teams to help educate and also we ensure we openly talk about the community.
It is really important for the wider community to know a local gym is visibly supportive and of course hold no judgement. We are involved with local charities also to ensure our members have a safe space to come and work out.
Do you get involved as a team with Pride events in the area?
We have attended Pride events in Birmingham for the last 3 years, we all go out as a collective team wearing our Everybody Welcome tops and continue to wear these throughout the month of June.
Why is feeling seen and heard important to you?
It's important to be seen for who you are, and not a version that people would perceive, be fully present in the moment. Having allies to listen and actually want to listen is important, they might not agree with what the conversation is about, however there is no judgement nor hard feelings.
What tips would you give to someone who wants to better feel seen, heard and understood?
Talk to people, find your circle of trust and ensure they are the right people for you, this can sometimes take longer than expected however be proud of who you are and ensure that those around you offer you more than anyone else possibly can, doesn't always have to be family.
Be proud of who you are.

What does Pride mean to you?
To me Pride is an expression of happiness, confidence, and community. Pride is the absence of shame, something that our community have felt through the years in different aspects, from social, political, economical and even touching human rights. Our community and our allies have faced, and still, face unfair situations that can be easily solved with education, information and LOVE.
Pride is that superpower that teaches you that your potential is limitless and comes with a toolbox for every opportunity, brings people together and creates community - a family to trust, share and educate our society and understand that LOVE means LOVE. Love destroys labels, prejudice, and spreads like nothing else.
How do you create a safe and welcoming space for the LGBTQ+ community at your gym? 
I have been an Assistant General Manager at PureGym Bournemouth Mallard Road for a year now, and I have experienced both sides of the coin. As part of the management team my focus is to run the gym and make sure our members can find a safe space to work out and meet new people, experience classes and try things they haven't done before to grow as individuals. We celebrate the members of our community especially in our classes, spinning to Donna Summer, Disco LBT with some dance moves to the beat… Myself as an openly gay man I encourage everyone to be themselves and embrace every second they spend working on themselves like a celebration.
The team and I engage with members that are openly part of our community and participate in charity events, challenges and include everyone as part of the family. PureGym also has 'SafeSpace', an amazing team that is ready to deal with any situation, we encourage everyone to speak up to resolve and make our gyms a better place, thanks to this we have solved issues with amazing results.
We welcome everyone equally and give the same opportunities to everyone to feel celebrated and part of the family.
What does feeling 'seen and heard' mean to you?
When I started my fitness journey, I was always the skinny shy guy, I never wanted to engage with any type of sport just in case someone would laugh at me or make fun of me for not being "manly enough or macho" like in my country. Time passed and I developed habits that were making me unhappy, and I wanted to change. After joining the gym feeling lost was the first step, so I decided that I won't give up and I got a PT, He encouraged me to try new exercises and machines I thought I would never use, from that decision to today over 10 years have passed and I look at myself with pride, I needed to feel confident and supported to continue growing.
I am part of a community that gives me a platform to express myself and I am lucky enough to be in the right place within a business and a gym that celebrates who I am just the way I am.
What tips would you give to someone who wants to better support people to feel seen, heard and understood?
Don't be afraid to ask and learn, educate yourself and be understanding and tolerant. Surround yourself with people from all the walks of life, the more you embrace other cultures, points of view, life choices and opinions the more you will grow as a human.
Have you ever felt any anxiety around using the gym as an LGBTQIA+ person?
The gym for me was a place that just some people would be able to go, as a man I was never big enough, strong enough, prepared enough… leaving my fears at the door and embracing a new venture helped me to win the battle of the shame and the reality was that I had more prejudice in my own thoughts that what actually happened. 
I grew confidence and strength within myself enough to transform this journey into a path for my life that changed me forever, being so fortunate to end up in PureGym The Triangle with Sam my manager that not only made me feel like part of the team from day one but showed empathy and was happy to celebrate and push me to become who I am today,  the AGM of Bournemouth Mallard road, loving my job and career like never before.
What advice would you give to somebody who may be avoiding the gym for fear of this?
Do it for yourself and use every tool in the toolbox, you are going to start a journey that is called SELF LOVE, nothing matter as long as you are happy doing it, and for that we have "get started" slots to show around the gym to new members, lots of workshops and classes to learn how to use the equipment and do movements correctly, classes with different styles for you to try and enjoy a good time within a group. Our community is filled with amazing people that probably have found themselves in your shoes before, reach out!

What does Pride mean to you?
Pride is a safe place free of judgement and exclusion, pride is a place I can freely express myself to the MAX, a place I can be the crazy excitable golden retriever Ellie that all my colleagues, family and friends know and love. 
Pride is a place where being quirky, different and "abnormal" is what's accepted, if anything being called normal is an insult! Love is love whether that's self-love to the love of a partner, family member or friend.
How do you engage with the LGBTQ+ community at your gym? 
Within my club at Lichfield, I openly talk about my sexuality in the hopes it spreads awareness and shows the members and my clients that this is a safe place, and they know they can talk to someone who is part of the same community or who could offer guidance and support in something that can be scary and exciting. 
With it being my first Pride with PureGym I wanted to go all out so within club so I am running a coffee morning where LGBTQ+ members can come talk about their experiences, struggles and wins that aren't just gym related but existing in the world as an LGBTQ+ person.
How important is feeling 'seen and heard' to you?
When I first came out my biggest fear was not being accepted by the people I love and care about so knowing that I have been "seen" as me at 100% and not having to hide from people and myself was a relief. Being "heard" is just as important because mental health is important, LGBTQIA+ people are 1 ½ more times morelikely to develop mental struggles (Mental Health UK). Let's start the conversation before it's too late. 
What tips would you give to someone who wants to better support people to feel, seen, heard and understood?
Just talk to them, be real with the community and be open minded and accepting of people's identities whether you agree or disagree.
Have you ever felt any anxiety around using the gym as an LGBTQIA+ person?
When I first started out as a Personal Trainer in the gym, I was scared to openly talk about my sexuality as I was afraid that I'd lose business or be treated differently because I identify as a lesbian woman, but I was happily proven wrong. The members and staff were so accepting as well as respectful towards myself and others in the community. They encourage me to be proud of who I am, I couldn't ask for anymore loving support. 
What advice would you give to somebody who may be avoiding the gym for fear of this?
Talk to the staff or even members  - the gym is a place for everyone and we all have one thing in common, that's the love of the gym and the will to better ourselves regardless of your sexuality, gender, age or ethnicity the gym is for everyone. 
At PureGym, everybody is welcome all year round – not just for Pride Month. We strive to make our gyms a safe space for everyone and have worked with our LGBTQ+ network group to review our policies and set an action plan and objectives to make PureGym a more inclusive space. 
Want to learn more about our LGBTQ+ network group team Charlotte, Carlos and Ellie? Watch our SEEN, HEARD & PROUD campaign video here to find out more about what they have to say.
You can also get more advice on overcoming gym anxiety here.