Lean Loaded Cheeseburger Recipe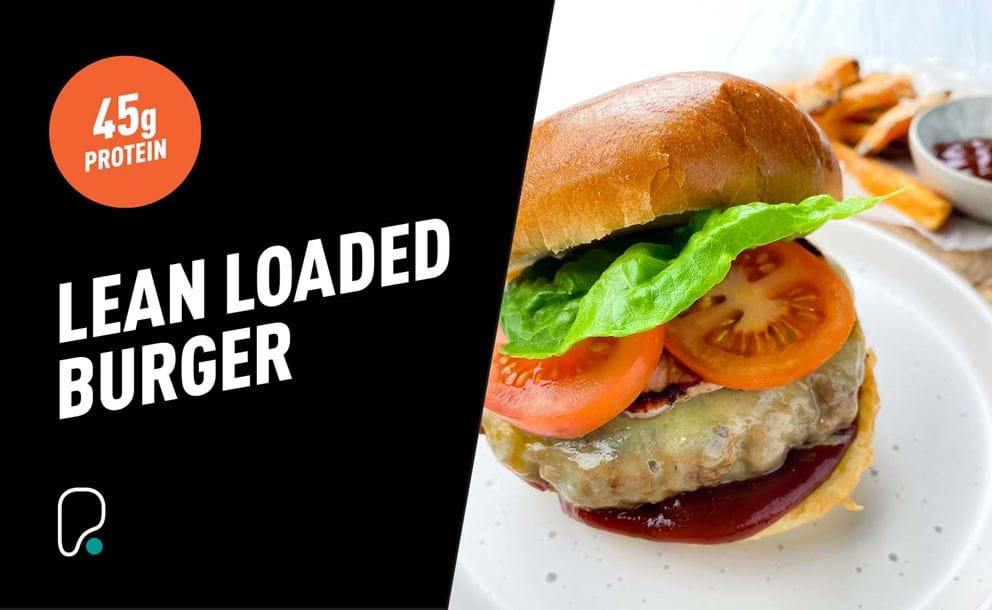 Craving a takeaway burger and fries but trying to stay on track with your fitness goals? Our lean loaded cheeseburger and fries is a healthier take on the fast-food classic, at a fraction of the calories with only 6g of saturated fat.

Our recipe uses lean beef mince, reduced fat cheese and bacon medallions to create a burger that's higher protein, and lower in fat, than fast-food burgers – all without compromising flavour. We've served ours with crispy oven baked sweet potato fries, but you could swap these out for potato wedges, a salad, or whatever takes your fancy.
You can also double or quadruple the recipe to make multiple patties to serve friends or family or cook and store in containers to make burgers throughout the week.

Serves: 1
Prep time: 5 mins
Cooking time: 25 mins                                                                                                  
Ingredients:
Burger Patties:
125g lean beef mince
8g fresh breadcrumbs
½ tbsp milk
1 tsp paprika
1 tsp onion powder
Sweet potato fries:
1 small sweet potato
1 tsp cornflour
Salt and pepper
Low calorie oil spray
To serve:
1 sesame seed brioche burger bun
1 bacon medallion or rasher with the fat trimmed off
1 tsp sugar free BBQ sauce
1 slice of light cheddar cheese
1 slice of tomato
1 gem lettuce leaf
Method:
Preheat oven to 200c.
Slice sweet potato into chip shapes and then place them in a bowl with cornflour and toss until they are all coated.
Place the sweet potato fries onto a lined baking tray with a pinch of salt and a few sprays of low-calorie oil spray and place into the oven for 20-25 minutes until crisp.
While the chips are cooking start the burger patties. Mix breadcrumbs with a touch of milk to make a thick paste – you may not need to use all the milk, so add this gradually until you get the right texture.
Add in the mince, onion powder and paprika to the bread mix, and then season with salt and pepper.
Shape the mixture into either one large burger patty or two thin patties.
Heat a frying pan with a few sprays of low-calorie oil spray and bring to a medium to high heat.
Add the burger patties and turn every 2-3 minutes until they are cooked through to your liking. Once nearly cooked top with cheese and leave to melt.
Meanwhile, as the burger cooks, place the bacon medallion under a medium grill and cook until crisp.
Once all your ingredients are cooked, stack the burger with BBQ sauce, bacon and salad in a brioche burger bun and serve with sweet potato fries.
Want to try more of our healthy burger recipes? Try our cheesy turkey burgers with oozing mozzarella middles or give our veggie bean burgers a go if you're trying to eat more plant-based meals.