Cheesey Turkey Burgers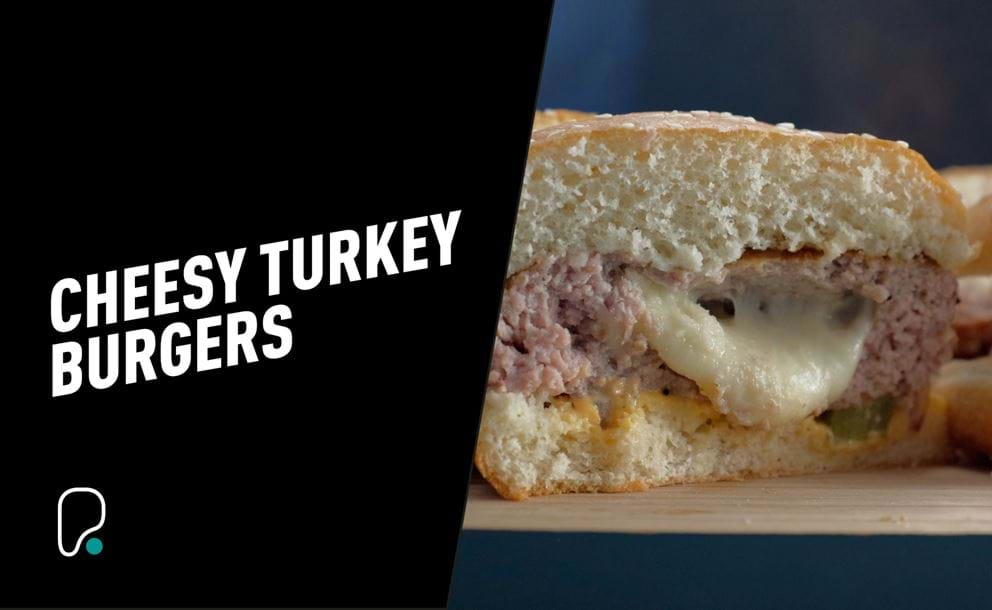 Make these delicious burgers at home oozing with melted mozzarella in the middle - a great treat for a Friday Fakeaway! Each serving provides 56g of protein.
Cheese stuffed burger recipe ingredients
Serves 4
500g lean turkey mince
Salt and pepper
1 ball low-fat mozzarella (quartered)
Low calorie oil spray
4 Burger buns
½ Red Onion
10 mini Gherkins
1 tbsp Low fat burger sauce
How to make a cheese stuffed burger
Start by seasoning your lean beef mince with salt and pepper.
Split the beef mixture into 4 balls and press the mixture out into the palm of your hand, creating a flat burger shape.
Place a chunk of mozzarella into the middle and then gently press the burger closed around it.
Press the burger down again to make it flat and burger shaped, and then repeat for all four of the burgers.
Pre-heat a pan and spray with low calorie oil spray.
Fry the burgers on each side for approximately 5 minutes each – but this will be dependent on the size and thickness of your burgers so be sure to checked your burger is cooked through before removing it from the heat.
Stack your burger up with lettuce, red onion, tomato slices, gherkins and some reduced fat burger sauce.
Nutritional information
Per serving:
618 calories
56.2g protein
23.5g fat 
11.6g of which saturates
43.9g carbohydrates
3.8g sugar
2.5g fibre
1.93g salt
For more quick recipe ideas like this check out our Nutrition section