Celebrate St Patrick's Day with these healthy green recipes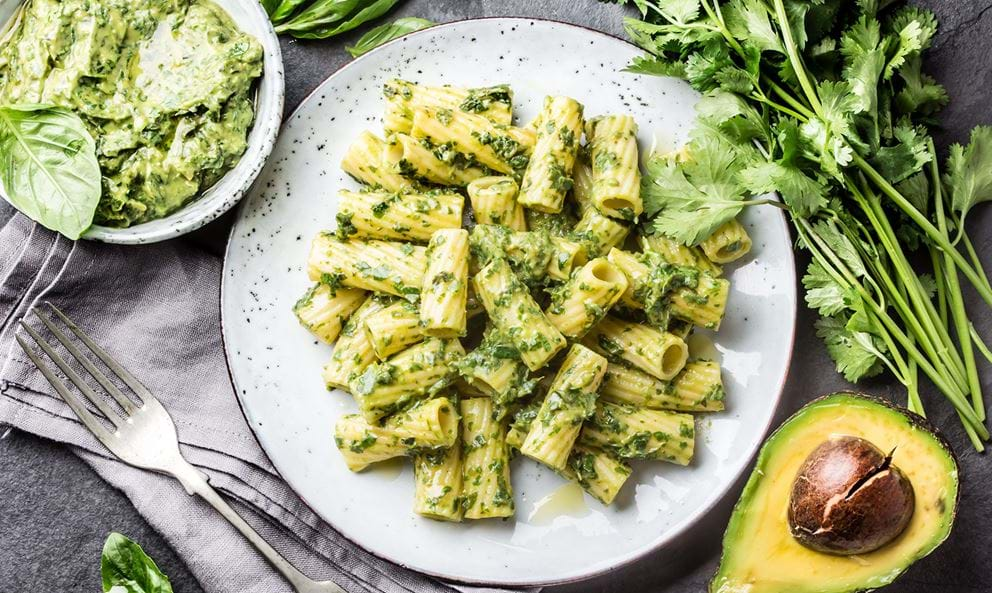 What better way to celebrate St Patrick's Day this March than by eating your greens! After all, green is the unofficial national colour of the Emerald Isle, present in the Irish flag and worn by national sporting teams.
The good news is that by 'eating your greens', we don't just mean vegetables. We've created a tasty three-course meal - plus a sumptuous drink - that is not only healthy but completely green in colour! Let's get started...with the starter. 
Starter: Spinach frittata and avocado boat

Frittatas are quick and easy to make. An Italian dish made with eggs, milk, and the seasoning of your choice, they are basically a quiche without the crust. The green ingredient to add to your frittata for our St Patrick's Day meal is spinach. Rich in iron, Vitamin K and magnesium, this popular vegetable is also low in fat and cholesterol. Plus, it's also been linked to promote healthy eyesight, reduce inflammation and protect against certain cancers.
Ingredients (serves 2):
4 eggs
¼ cup milk
Clove of garlic, minced
2-4 cups of fresh spinach
¼ cup scallions, chopped
Salt
Method:
Preheat the oven to.
Crack the eggs into a medium bowl and whisk them together. Add the minced garlic and any spices you may want to add.
In a medium skillet, sauté the spinach and scallions. Add a pinch of salt.
Place the cooked spinach into the egg bowl and gently mix.
Pour the mixture into a cast iron skillet, and bake in the oven till golden brown.

Alongside your frittata, we recommend an avocado boat. Not only are they green in colour, avocados are a great source of healthy fats, vitamins and minerals, fibre and more potassium than you'd find in a banana. Simply cut an avocado in half, remove the stone, and stuff the hole with tasty green pea hummus, made from blended peas, olive oil, lemon juice and basil. Delicious and green!
Main: Green pesto pasta

Our main course contains the ever-popular - and ever-green! - basil sauce, pesto. UK supermarkets sell over £38 million of pesto each year1 but you can easily make your own by blending cooked pine nuts, parmesan, olive oil, garlic and basil. Packed full of flavour, pesto is a great source of unsaturated fats, which can improve cholesterol levels, and basil contains chemicals known to support cell growth and fight certain diseases.
As for the healthiest type of pasta on which to add your green pesto sauce, we recommend whole wheat pasta as research has linked it to a reduced risk of heart disease, obesity, type 2 diabetes and certain cancers.2
Ingredients (serves 2):
125 whole wheat pasta
50 g pine nuts
150 ml olive oil
2 garlic cloves
Large bunch of basil
50g grated Parmesan cheese
Freshly ground black pepper
Salt
Method:
Boil the pasta according to the instructions on the package.
Pan fry the pine nuts so they're nice and toasted.
Combine the pine nuts, olive oil, garlic and parmesan into a food processor, and process until smooth.
Once the pasta is ready, serve the pasta onto a plate and top the pesto sauce on. Sprinkle some freshly ground peppers, a pinch of salt and some Parmesan, and tuck in!
Dessert: Green tea cake

If you've got a sweet tooth, you'll love this mouth-watering dessert. We've not just chosen green tea due to its colour, it's also something of a superfood rich in antioxidants believed to boost weight loss, lower cholesterol and blood pressure.
Available online and on the high street, green tea powder is what gives this cake its emerald colour. Simply add the green tea powder to your cake mix of butter, sugar, eggs, flour and baking powder and bake in the oven for between 30 and 40 minutes. Whether or not you cut your slice of green tea cake into a shamrock-shape is entirely up to you!  
Ingredients:
2 large eggs, 1 cup flour, 2/3 cup sugar, ½ cup butter, 1 tablespoon green tea powder, ½ teaspoon baking powder
Method:
Preheat the oven to 170 Degrees Celsius.
Cream the butter in a large mixing bowl
Add the sugar in the butter and mix well.
Gradually add beaten eggs and stir well.
Add all the dry ingredients into a sift, and sift them into the egg mixture and mix well.
Pour the batter into a baking tin and bake for 30-40 minutes.
Drink: Kale, lime and coconut water green smoothie

We're sure you're going to be quite thirsty after your delicious, green St Patrick's Day feast, so here's a green smoothie to help wash it down. Simply blend kale, lime and coconut water in a blender and add extra green ingredients apple and cucumber to taste.
Not only is this smoothie green and refreshing, it contains the superfood, kale, which is packed full of protein, vitamins and minerals believed to boost your heart, brain and vision.4 Adding coconut water to the mix, gives this smoothie a further health kick in the shape of potassium, which boosts heart functionality and lowers blood pressure, glucose, which helps you rehydrate, and some studies suggest it may also lower cholesterol.5
Ingredients:
1 small bunch kale leaves, roughly torn
1 small cucumber, roughly chopped
Juice of half a lime
2 tablespoon of honey
3 cups of coconut water
Method:
Put all the ingredients into a blender and process until smooth. 
So there you have it. It couldn't be easier to celebrate St Patrick's Day in style than by eating your greens with the help of this fun and tasty three-course meal. Enjoy!
1 https://www.theguardian.com/lifeandstyle/2017/feb/08/herb-wars-which-supermarket-wins-the-pesto-taste-test
2 https://health.usnews.com/health-news/health-wellness/articles/2015/10/02/the-healthiest-pastas-from-quinoa-to-buckwheat-noodles
3 https://draxe.com/health-benefits-of-kale/
4 https://www.bbcgoodfood.com/howto/guide/health-benefits-coconut-water