Healthy Chicken Noodle Soup Recipe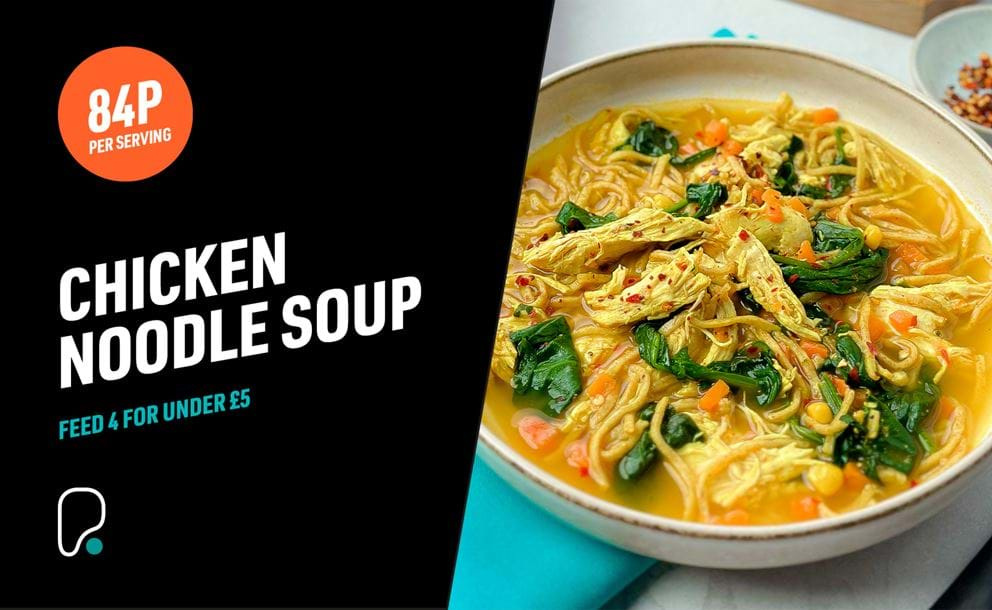 Chicken noodle soup is a staple dish in many cultures, and often seen as a comfort food during colder months or flu season.
We wanted to make chicken noodle soup a more viable option for any day or season, and our recipe does just that. Quick and easy to make, each serving is just 232 calories with an impressive 25g of protein – perfect for a low-calorie lunch, post-workout snack, or paired with fresh bread and butter for a filling dinner.

We've used carrots, spinach, sweetcorn, and spices to create a vibrant dish that's as healthy as it is flavoursome. For the protein, we've gone for chicken breast as it is low in fat and high in protein, and we've used wholewheat noodles to increase the fibre and nutrient content. A high fibre diet improves digestion, increases satiety, and lowers the risk of many diseases, including heart disease and bowel cancer.

Each serving of our chicken noodle soup costs just 84p to create, with a total recipe cost of £3.37 for four people, and it takes just 10 minutes to prep – simply leave to cook away on the stove for 30 minutes and then you're done.
Serves: 4
Prep time: 10 mins
Cook time: 30 mins
Ingredients
2 chicken breasts
2 garlic cloves, crushed
1 litre chicken stock
100g whole wheat noodles
2 carrots, finely diced
½ tsp turmeric
½ tsp red chilli flakes
100g spinach
50g tinned sweetcorn, drained
Low calorie oil spray
Salt
Freshly ground black pepper
Method

Start by adding the chicken and garlic to a deep pan and pour over the chicken stock.
Bring to the boil, then reduce to a simmer and leave to cook for 20 minutes until the chicken is tender.
Now remove the chicken and shred it using two forks. Keep the stock for later.
In a separate deep pan heat low calorie oil spray and fry the carrot, until softened.
Next, sprinkle over the turmeric and chilli flakes.
Add the left-over chicken stock from earlier and bring to the boil.
Once the stock starts to boil add the noodles.
Now, cover the pan and simmer for 7-8 minutes, until the noodles are cooked.
Add the final ingredients, the spinach, sweetcorn, chicken and 200-300ml boiling water.
Warm everything through for 1-2 minutes until the spinach wilts and the soup comes together.
Season to taste, serve and enjoy!