Gym Workout Plans For Men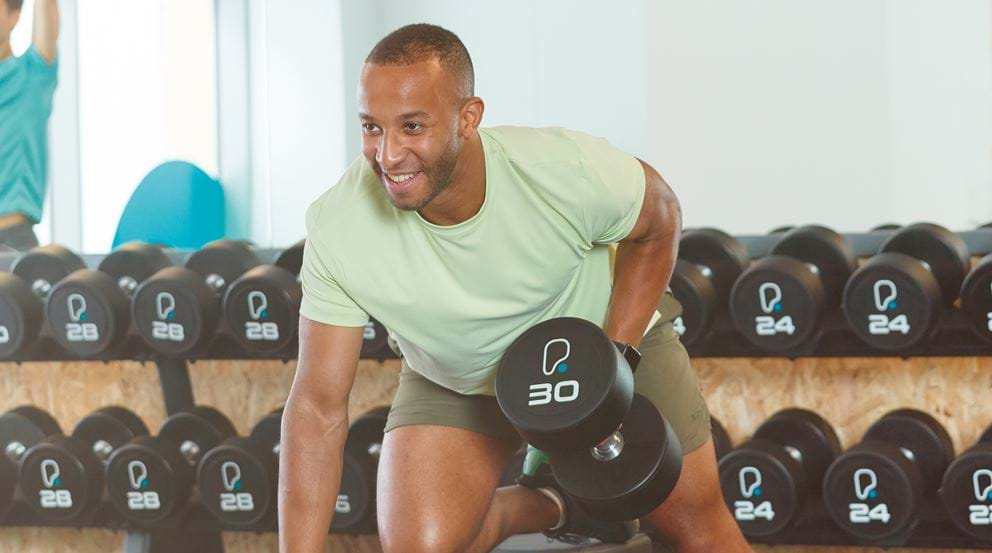 Who Needs A Workout Plan | Benefits Of Workout Plans | Beginner Gym Workout Plan | Intermediate Gym Workout Plan | Advanced Gym Workout Plan
Whether your goal is to lose weight, build muscle, or get strong, if you're looking to progress in the gym, having a workout plan is key.
We asked PureGym Calcot based PT and Assistant Manager at and bodybuilder Lysander Maynard to explain why having a workout plan is so important. He's also shared three men's weekly workout plans: a beginner, intermediate, and advanced. These gym workout plans are aimed at those who want to gain muscle and improve their strength.
Does Everyone Need A Workout Plan?
Everyone who works out can benefit from having a workout plan, and we've outlined the general benefits of workout plans below. However, if you're new to the gym (less than one year), it's likely you'll still get good results even without following a plan. This is known as "newbie gains", and happens because of the neurological adaptions and rapid muscle growth that occurs in the early stages of training.
For intermediate (those who've been training over a year) and advanced (those who have been training at least two to three years) lifters, having a plan becomes even more important as these gains level off, so you need efficient and effective workouts to progress.
We have gym workout plans for all levels below.
What Are The Benefits Of Having A Workout Plan For Men?

Beginner, Intermediate, And Advanced Workout Plans For Men
Making your own workout plan…. However, if you'd prefer to follow an existing workout plan, Lysandar has created an intermediate and advanced weekly gym workout plan for men you can follow along. These workout plans are aimed at improving strength, endurance, and building muscle mass.
Start each workout with a 5-10 minute warm up, and finish with some stretches to cool down. Choose a weight that allows you to reach the set number of reps with only 1-2 reps in reserve, so if your rep range was 8-10, you wouldn't be able to lift more than 11-12.
Beginner Gym Workout Plan For Men
This is a 3-day split workout plan, which is enough for beginners to start to build muscle and strength. As you get more advanced, you may want to increase the number of workouts – our intermediate and advanced workouts below can help with this.
Day 1 – Push

Day 2 – Pull

Day 3 – Legs

Intermediate Men's Workout Plan
This is a 4-day split workout plan aimed at intermediate lifters.
Day 1 - Quads & Hamstrings

Day 2 - Chest, Arms & Delts

Day 3 - Back

Day 4 - Shoulders & Arms

Advanced Gym Workout Plan For Men
This is a 5-day split workout plan aimed at those who have been training at least two or more years.
Day 1 - Legs

Day 2 - Push & Biceps

Day 3 - Upper

Day 4 - Pull & Calves

Day 5 - Arms & Abs

For best results, aim to follow your workout plan for 6+ weeks to allow for any neurological adaptions to take place. You can then adjust or completely change your plan depending on how much progress you are making.
Want more workout plan ideas? Check out our workout plans for bodybuilding here, workout plans for cutting here, and workout plans for beginners here.
If you need help creating a workout plan, why not work with a Personal Trainer – you'll get a bespoke plan created as well as ongoing help and support.