Great Pieces of Gym Equipment You Probably Aren't Using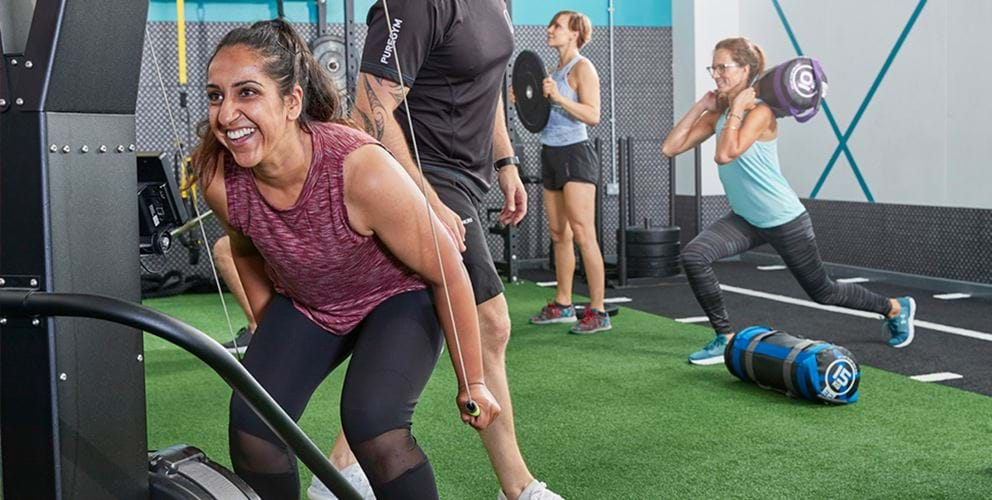 If you've visited a gym you'll know that there are certain pieces of equipment that are much more popular than others, often leading to awkward waiting times or 'how many sets have you got left?' type questions.
At the same time, there is other equipment that goes by unused by most gym goers, which could add real value to your training session.
In their latest report, PureGym has spoken to their managers across the UK to find out which gym equipment are the most and least used.  Based on the findings, we've come up with plenty of workout ideas and tips on how to best use these under-utilised pieces of kit, so you can get effective training sessions in no matter what the time is. You might even discover your favourite new piece of kit!

PureGym also asked their managers which pieces of equipment in their gyms they thought was the very best for different fitness goals, and a large group of gym managers called out the Ski-Erg and TRX System as underused pieces of equipment that were perfect for improving your overall fitness levels.
So next time you find yourself in a busy gym with your favourite machine being used by someone else, why not mix-up your training routine with one of the following? They're pretty much guaranteed to be available, and will give you some new workout ideas to add to your gym repertoire:  
The Ski Erg
The 7th least used piece of gym equipment, but UK gym mangers also called it out in their top ten list of best pieces of gym equipment ever
The Ski-Erg makes an appearance in both the list of least used gym equipment, and the list of best gym equipment overall by PureGym's managers.
Terese Tijusaite, gym manager at the London Aldgate PureGym says: "The ski-erg is an unsung hero of the gym, especially if you're looking to improve general fitness. You can improve your cardiovascular fitness by working through 20-30 second intervals, or mix in some kettlebells and bodyweight exercises for a quick and effective workout. It's an ideal piece of equipment for gym goers of all levels and is a great way to round off any workout. You will likely not have to wait to use it either, as they regularly stay free".
Ski-Erg Full-body functional workout:
Perform back to back. Rest one minute. Repeat 4 times.
Or, try the Ski-Erg Challenge:
How many metres can you ski in 30 seconds? Ski for 30 seconds and make a note of the distance you travelled from the screen. Challenge a friend or partner to try the challenge.
Note: Make sure to warm up properly before this challenge.
TRX System
Named as the 10th least used piece of equipment but came 6th in gym manger's rankings of most effective gym equipment ever
The TRX System is one of the most unloved pieces of equipment in the gym but gym managers really rate it, ranking it higher than both the plate-loaded leg press and the spin and assault bikes in their top ten favourite pieces of kit.  
Lee Stewart Evans, Gym Manager at Glasgow Charing Cross says: "The TRX provides a full body workout and can allow the user to target many different muscle groups. There are many different uses with a TRX System, and if you visit the gym when its busy, this is one of the lesser-used pieces of equipment, so while other people are waiting for something else, you can make sure you can in a full body workout every time".
TRX System Workout:
Squat 10 reps
Row 10 reps
Lying hamstring curls 10 reps
Flys 10 reps
Mountain climbers 10 each side
Side plank taps 10 each side
Perform back to back. Rest 1 minute. Repeat 4 times.
AGILITY LADDERS
Named as the 3rd least used piece of equipment by 31% of UK gym managers
PureGym Insider Kay says: "Most commonly used by athletes, particularly footballers, the agility ladder is a great piece of kit to use if you want to improve footwork, speed, agility, coordination and explosiveness. It's easy to set up, compact and you can perform a variety of exercise drills on this, so if you're looking to switch up your cardio routine, why not give it a go?"
Agility ladder workout:
Alternating air punches 30 seconds
Agility ladder in and out (up and down)
Box jump: 10 reps
Medicine ball slams: 10 reps
Agility ladder ickey shuffle (up and down)
Sprint/ prowler 12m or down track
Repeat 4 times.
BOSU BALL
Named the least used piece of equipment by 27% of UK gym managers
Instead of waiting around for a machine to become free, use the time to work on your core strength and balance. At times a forgotten aspect of a training regime, good balance will benefit most of what you do in a gym, and the bosu-ball is a great way to give it a boost. Kay has created a Bosu-Ball workout, to be performed with the flat side on the ground.
Bosu-Ball Exercise:
Bosu ball hip raise
Bosu ball elevated press up
Bosu ball back extension
Bosu ball plank
Bosu ball side plank
Bosu ball scissor kicks
Perform each exercise for 30 seconds then rest 10 secs. Move to the next exercise until you complete all 6 exercises. Rest for 1 minute. Complete 5 rounds total.
You can try giving this functional ab workout a go using a bosu ball too!
Power Plate
Named the most unpopular piece of gym equipment by 50% of UK gym managers
As they'll most likely be sat unused, it makes sense to know how to include a Powerplate workout into your gym visit. Using them for cool-downs and stretching is a brilliant way to kill the time you'd usually spend waiting for a machine. Powerplates can take your stretches that step further; use them in your standing hamstring, glute, hip and calf stretches for a really effective post-leg cooldown.
The workout below is best completed after a treadmill, or other leg focused workout. Hold each stretch for between 20 and 30 seconds, and make sure to repeat the exercises on both legs:
Standing hamstring stretch
Standing glute and hip stretch
Standing calf stretch
Calf massage (lying down on the floor with calves rested on the machine)
RECUMBENT BIKE
Named the least used piece of equipment by 31% of UK gym managers
Being new to the gym can be daunting, especially when visiting at a busy time and most areas of the gym are being used. The recumbent bike offers a great, low-impact way for all fitness levels to boost general fitness, no matter when you visit. PureGym Insider Kay says: "If you're wanting a low impact workout, a recumbent bike can be a suitable equipment of choice to boost your fitness levels. This bike is suitable for all abilities and comes with a backrest and wider seat so it provides more support and cushioning than on an upright bike."
Recumbent Bike Exercise:
3 minutes low resistance (65-70% max)
2 minutes medium resistance (75-85% max)
1 minute high resistance (85-100% max)
Active rest for 1 minute whilst cycling at 80RPM lowest resistance. Repeat 2 to 4 times.
For more findings about popular gym equipment use, as well as the busiest and quietest gym visiting times, see PureGym's latest report here.