Allan's Heart Story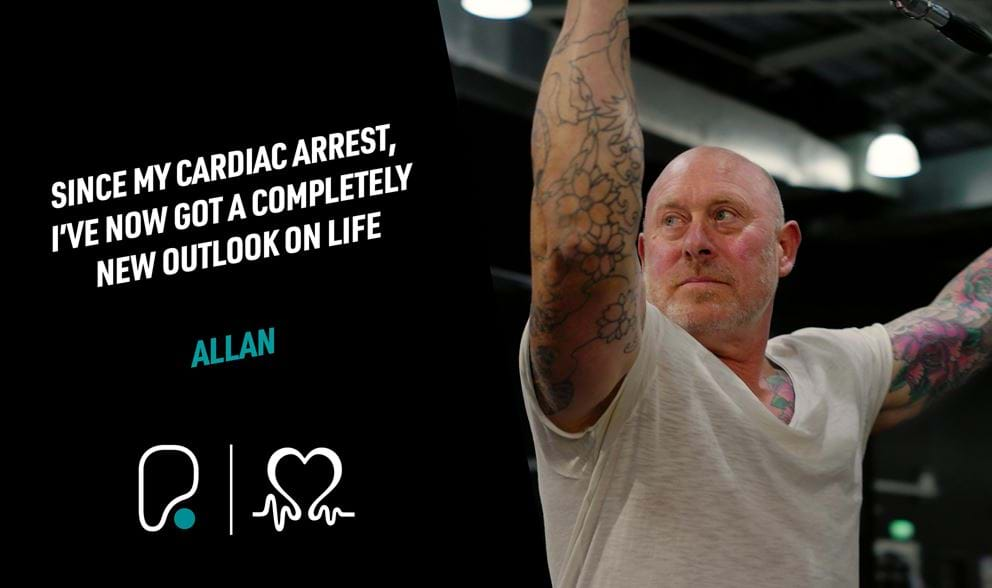 As part of our partnership with the British Heart Foundation, we are sharing incredibly moving heart stories from inspiring PureGym members – all to raise awareness of heart and circulatory diseases.
Today's heart story is from Allan, a member at PureGym Sunderland. Although a regular gym goer with no underlying health conditions, Allan suffered a cardiac arrest during his workout. Three staff members saved his life by administering CPR and using the defibrillator until the paramedics arrived. Here is Allan's story:
In August of 2022, I came into the gym as normal to train but soon after I collapsed on the gym floor and had a cardiac arrest.
Prior to the incident my overall health was good, and I thought I was pretty fit. I'm 58, so I'd had a health MOT at the doctors 2 days before and my heart rate was fine, and my blood pressure was fantastic.
I've always enjoyed weight training and prior to my cardiac arrest I was training around 5 times a week and loved lifting weights and feeling strong.

There were no warning signs or symptoms, and on the day, it felt like any other ordinary morning. I had a good breakfast and headed to the gym ready to workout. But soon after starting I collapsed and the gym staff realised they had a serious situation on their hands.
There were three staff members - Dan, Andrew & Gary - who took it in turns to perform CPR on me and it was a real group effort to keep me alive. The defibrillator that is kept on-site was also used, and it took just one shock to ensure I left the gym with the paramedics conscious.
In hospital I was really confused, my chest felt painful, and I couldn't remember anything. When my daughter told me what had happened, I was completely overcome with emotion. Nothing prepares you for that, especially when you've had no warning signs.
Since my cardiac arrest, I've now got a completely new outlook on life. I've realised it's the little things in life that mean the most to me, such as my dog and children and I've become kinder to myself since too. I now look at things in a different light and I feel so lucky and happy to be alive.

Although my outlook has changed, I'm still struggling to come to terms with everything. I have no memory of the incident, so it feels like I'm in a dream and that nothing has happened to me. On the flip side, even though I can't remember it, I can't seem to get it out of my head. I'm not sleeping well, so it's been hard to get back into a routine and everyday life.
What isn't talked about enough is the impact on your mental wellbeing after having a cardiac arrest. I know how much it's affected me, so I've reached out for professional help. The British Heart Foundation also have a great chat line* which is really helpful, as they understand your situation but you're chatting to a stranger, and it feels like I can open up more.
Since the incident, I've had to adapt to a new fitness routine which has been tricky. I'm only able to do light exercises, such as walking the dog, using the treadmill, or even doing the food shop. I am missing my old regime of lifting weights and pushing myself, but it's given me a new goal to just focus on being healthy and finding a new life balance.
Seeing the guys again who were in the gym that day and saved my life with CPR and the defibrillator was great yet a really emotional moment. Without their quick action, and if it had happened anywhere else, I might not be here today.

Now that I'm looking at life through different eyes it all looks good to me, it really does.
Inspired by Allan's moving heart story?
Learn how to save a life, like Dan, Andrew and Gary did for Allan. When unexpected things happen, it's vital to know what to do.
PureGym have defibrillators on-site at each gym, and these can be lifesaving in a critical situation.
The day you need to do CPR comes when you least expect it. This #RestartAHeartDay learn CPR with the British Heart Foundation's free online training tool, RevivR. It only takes 15 minutes. Start your CPR training here.
*Experienced cardiac nurses at the British Heart Foundation Heart Helpline are on hand to help answer questions or concerns about heart and circulatory diseases, and their risk factors. For more information visit www.bhf.org.uk/hearthelpline
WE ARE PROUD TO BE THE OFFICIAL GYM PARTNER FOR THE BRITISH HEART FOUNDATION
We've partnered with the British Heart Foundation to help inspire a healthier nation, one heartbeat at a time. With the help of our partners (and heart experts!) the British Heart Foundation, we want to get more people thinking about their heart health.
Click here to find out more about our partnership with the British Heart Foundation and learn more about how to look after your heart health.