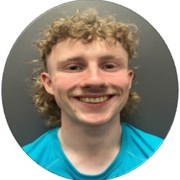 Will Lloyd
I began my fitness journey at 17 stone. I felt lethargic and knew that I must make a change to live a healthier lifestyle to improve the quality of my life.
After training for 3-years consistently I decided I wanted to push myself outside of my comfort zone and entered a natural bodybuilding competition. To reach my full potential I knew that I had to further my knowledge and so I hired a coach to build upon my understanding of training methods and nutritional guidance. From the invaluable knowledge I've gained from working with top level coaches and a wide range of clients, I have the testimonials to show that I can help individuals with weight loss, muscle gain and resistance training.
I am big believer in practice what you preach and since making my transformation, I have helped others reach their full potential.
If you see me on the gym floor, ask any questions and I would be happy to help!
Specialist Areas
Body fat reduction
Muscle tone and development
Nutritional guidance
Persistent motivation
Weight loss
Qualifications
Level 2 Fitness Instructor
Level 3 Personal Trainer
Level 3 Business