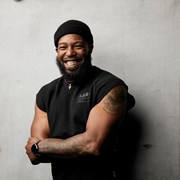 Vincent King
Hi, I'm Vince, and I am immensely passionate about physical health and mental well being.
I immerse myself in enhancing the lives of others through my coaching and personal training, assisting them with continual support and encouragement to take control of their goals and remain disciplined to achieve them.
With over 8 years experience in personal training and fitness coaching, I have helped and trained 100's of people to work towards and achieve their fitness goals, whether that's fat loss, gaining strength, improving mobility, or even a singular goal such as achieving a handstand. No matter how big or small your goals are, I'm here to help you!
It's important to me to take a holistic approach to fitness. This means focusing not only on physical fitness, but incorporating nutrition, mental wellbeing and mindfulness to create an overall sense of wellbeing which is essential for both mental and physical longevity.
Contact me below or tap me on the shoulder in the gym and we can chat about how to get started on achieving your goals regardless of skill and/or fitness level
Specialist Areas
Body fat reduction
Functional specialist
Nutritional guidance
Persistent motivation
Strength and conditioning
Weight loss
Qualifications
Level 2 Gym Instructor
Level 3 Personal Trainer
Level 2: Mobility/End Range Training
Level 2: Strength and Conditioning
Level 2: Circuit Instruction
Level 2: Kettlebell Instruction