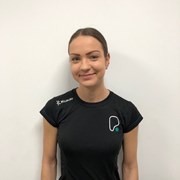 Vicky Morrish
Do you ever walk into the gym and feel anxious about your workouts? Are you wanting to step away from doing hours of cardio but feel overwhelmed and unsure of what to do? Do you want to start using free weights and make positive changes to your confidence and mindset in a way you find enjoyable?
This was me too! I went to the gym regularly, only using cardio equipment which left me feeling unmotivated to train and frustrated. I lacked confidence and felt intimidated in the gym. This all changed when I made the decision to get a PT and that was when my passion for fitness started! Not only did I develop body confidence, a love for lifting weights and achieved goals I never thought I would.
I aim to develop your body confidence and make positive, sustainable changes to your lifestyle. Whether your goal is to lose weight, tone up or build muscle, we can achieve this and so much more during our time together to ensure you become the happiest, healthiest version of you!
Specialist Areas
Bespoke plan
Body confidence
Body fat reduction
Muscle tone and development
Persistent motivation
Weight loss
Qualifications
Certified Level 2 – Gym Instructor
Certified Level 3 – Personal Trainer