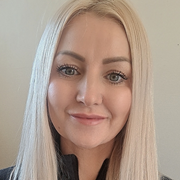 Tracy Wood
Hello, My Name is Tracy, With 6 years
experience in Personal Training. I'm very
knowledgeable and passionate in helping
people achieve their goals . Whether it be
personal training or 1 to 1 Pilates you are
after, or a mixture of both. I'm here to help
and guide you to becoming the very best
version of you!

PERSONAL TRAINING...
*Fitness *Fat loss *Strength Training
*Build Confidence *Nutrition
*Tailored workout plans.
PILATES...
* Posture Alignment Correction *Pelvic
floor strengthening *Flexability *Balance
*Co-ordination *Core, Spine & Shoulder
strength/stability. *overall strength.
Please do not hesitate to contact me. Or
fill out the consultation form using the QR
code and I will be in touch.
Let's get going :)
Instagram:  tmw.wellnesspersonaltraining
Specialist Areas
Bespoke plan
Body confidence
Body fat reduction
Muscle tone and development
Nutritional guidance
Persistent motivation
Postural correction
Strength and conditioning
Weight loss
Qualifications
• Level 3 Personal Training
• Level 3 Diploma in Modern Pilates