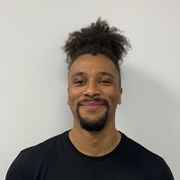 Tom Daley
I've spent my whole life involved in sport and exercise. I've learned first-hand the importance and impact exercise has on not only your physical but mental health.
I could bore you to death about my experiences and life story but not right now. I'm here to help you. I want to offer that experience and knowledge to help and support you on your fitness journey.
Whether you want to build muscle, lose weight or improve your general fitness. We can work at establishing effective systems and habits so that you'll be reaching and going far past your goals in no time!
Don't be afraid to say hello on the gym floor for a chat or advice. I'm more than happy to help.
Specialist Areas
Body fat reduction
Muscle tone and development
Weight loss
Qualifications
Level 2 Gym Instructor
Level 3 Personal Trainer
Sport & Exercise Science BSc