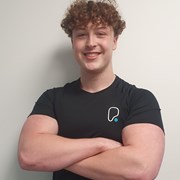 Contact
Free first session offered
Email me
Thomas Ireland
Hi, I'm Thomas.
I am ready to help you in becoming the healthiest version of yourself. Are YOU?
I started off my fitness journey how many others do, in search of a flat stomach and to weigh as little as possible. Now, 4 years later, I have developed my best relationship with food and my body; it wasn't easy, and I made many mistakes along the way. I am here to prevent you from doing the same.
I became a personal trainer to help everyone pursue their personal goals, using my own personal experience and training to make it the most efficient and rewarding idea you've ever had.
As a competitive powerlifter, my specialist areas are building strength, muscle mass and fat loss. In strength sports, efficiency alongside health is key; this is so important in personal fat loss and strength goals but often overlooked in search of an easy option. I am here to make this journey as easy and as healthy as possible for YOU.
YOU have already made the decision to change. YOU have the strength to commit to it.
Specialist Areas
Muscle tone and development
Sport specific training
Strength and conditioning
Weight loss
Qualifications
Level 2 - Gym Instructor 
Level 3 - Personal Trainer
Level 4 - Strength and Conditioning