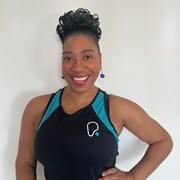 Susan Evans
My nickname is HURRICANE Sue as I am unstoppable in my quest to get you to reach your highest fitness ability.
I am 54 years young, and I never allow obstacles to stop me from achieving my goals. No matter what gender, age or fitness level, I want to do the exact same thing for you!
I love helping people to make fitness a part of their lives while having fun and fabulous time doing it. I love to raise self esteem and help to create and maintain a positive body image of yourself, always!
I am here to encourage you all with my own unique style of INSPIRATIONAL and MOTIVATIONAL techniques to help you achieve your goals.
I will get you to your fitness goals as quickly and as enjoyably as possible!
Specialist Areas
Body fat reduction
Muscle tone and development
Nutritional guidance
Strength and conditioning
Weight loss
Qualifications
Level 2 Gym Instructor
Level 3 Personal Trainer