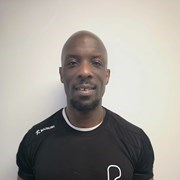 Sunny Odulate
Hello, my name is Sunny and I am a experienced and certified Personal Trainer and weight-loss counsellor. With years of experience of teaching people how to improve their fitness and to live a healthy lifestyle I am sure I can help you to achieve your own personal goals.
With the rising interest in achieving healthier lifestyles, due in part to a greater awareness of obesity and chronic disease epidemics, more people are being drawn to a healthier lifestyle. I am able to help you in these areas as well as setting out a specific program to suit your individual needs.
I advise and help with knowledge in weight-loss, muscle gain and nutrition, my aim is to get you physically fit and into the shape where you want to be, no matter your age, gender or physical capability. I am able to help you focus on the specific areas like sports conditioning, fitness nutrition, weight management and behaviour change. So whether you're wanting to train for a marathon or just to look and feel good, I am able to help you set:
• A specific diet plan.
• The benefits of eating and being healthy.
• The benefits of a healthier lifestyle.
• The benefits of a balanced diet.
• The importance of maintaining the changes in lifestyle.
Specialist Areas
Body confidence
Body fat reduction
Injury prevention and rehabilitation
Muscle tone and development
Nutritional guidance
Sport specific training
Strength and conditioning
Qualifications
Group Studio Cycling
Level 2 Diploma - Gym Instructor
Level 3 Diploma - Personal Trainer
Level 3 First Aid