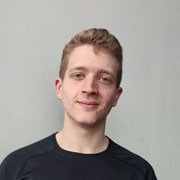 Steffan Fenning
Hi I'm Steffan,
"I'm here to show you that can you be more confident no matter who you are.
You can run a 5K, you can enter the weight room, become stronger and you will become a better, healthier you!
I first started exercising when I was a teenager, I just did a little circuit around the cardio machines and a few weight machines... I had no clue what I was doing, does that sound familiar? It was only when I had a PT myself that I found out how to train more effectively to meet my goals and discovered what I enjoyed. That eventually led me to a career as a PT where I love working with people to help them achieve their fitness goals.
Is your goal to boost your endurance, lose weight, get stronger, or have a better body image? Whatever it is, I'll support you all the way to your goals!"
Specialist Areas
Bespoke plan
Body fat reduction
Muscle tone and development
Strength and conditioning
Weight loss
Qualifications
Level 2 Fitness Instructor
Level 3 Personal Trainer
First Aid