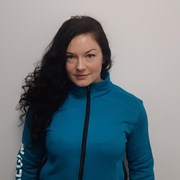 Solvita Skrivere
"Whether you think you can, or you think you can't - you're right." (Henry Ford)
I am here to help you discover that you can! Whether it is picking up the weights that scare you, getting into those skinny jeans you thought you'd never wear again or becoming more muscular even though you believe yourself to be a "hard gainer".
I will be there to motivate you and reassure you that you absolutely can improve the quality of your life by creating new habits that will make you feel better in your own skin and show you how achievements in the gym can translate into the real life through increased self-efficacy, resilience and confidence.
My own fitness journey began when I became a dancer and a performer. I was lacking strength to do some of the movements, so it was suggested I try resistance training at the gym. Lifting weights changed my life - everyday things just became so much easier, the pains in my ankles and back disappeared as I built muscle and became stronger, the quality of my sleep increased.
Specialist Areas
Body confidence
Body fat reduction
Nutritional guidance
Weight loss
Qualifications
Level 2 Fitness Instructor
Level 3 Personal Training