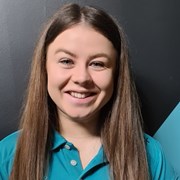 Shannon Harris
After years of trying every single weight loss trick in the book, I got fed up because they never worked. Why? Because it was too unrealistic. I fell in love with resistance training, and from there it helped me become more confident and create the body I always wanted! I'm not about quick fixes, it's about working together to create a long-term solution to improve your lifestyle. I focus on helping you creating realistic goals, empowering you to get on that gym floor and become the healthiest, fittest and strongest version of yourself.
My personal training and online coaching services are there to help increase your knowledge and confidence to achieve your goals.
I specialise in resistance training, weight loss and confidence building, both in and out of the gym. As well as being a level 3 PT, I am also qualified in Exercise Referral, allowing me to work with clients with conditions that need special care or for those wanting to get back on track post illness!
Specialist Areas
Bespoke plan
Body confidence
Body fat reduction
Muscle tone and development
Nutritional guidance
Persistent motivation
Weight loss
Qualifications
Level 3 Personal Trainer
GP Exercise Referral
Level 4 Weight Management