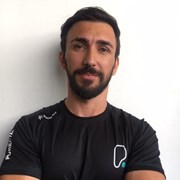 Sel Akman
I have been working with numerous clients for over five years now, whether that's for strength, cardio or weight management purposes. However, these programmes aren't always enough to get you the results you really want...
The problem – life gets in the way.
Regardless of how great a programme may seem, if you have adherence issues and tend to go back to your old habits, I could be the perfect coach to guide you onto the right path.
Lifestyle fitness coaching is a service that provides an action plan on how to live, organise and prioritise time to stay fit and healthy both mentally and physically.
I make it my goal to not only help you with an exercise programme, but also to help you fully implement a balanced and healthy lifestyle to make your fitness goals much more satisfying and far more achievable!
Specialist Areas
Body confidence
Body fat reduction
Muscle tone and development
Postural correction
Weight loss
Qualifications
Level 2 Gym Instructor
Level 3 Personal Trainer
Insanity Trainer
Gyro Board Instructor