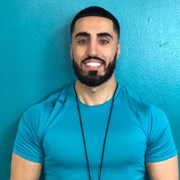 Sas Sorchi
"The body achieves what the mind believes".
I have applied this concept to my own day to day life, in order to motivate myself to physical greatness. It is for this reason that if you choose to train with me, I will put all my efforts and energy into pushing to reach your aim. I started out as enthusiastic boxer and this led me to train myself, with no help or outer influences.
I feel no greater sense of achievement or satisfaction than to witness the transformation of a client and I look forward to meeting with you.
Specialist Areas
Bespoke plan
Body confidence
Body fat reduction
Functional specialist
Injury prevention and rehabilitation
Muscle tone and development
Nutritional guidance
Pre and post natal
Sport specific training
Strength and conditioning
Weight loss
Boxing
Qualifications
Active IQ Level 3 Certificate: PT-QCF  
Active IQ Level 3 Certificate: Boxing      
Active IQ Level 3 Certificate: Nutrition