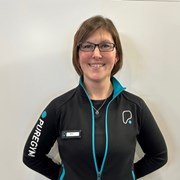 Sarah Sales
I believe that Personal Training at it's best is helping people to believe in themselves & their own abilities.
I have been involved with the fitness industry intermittently for a good 20 years & a Personal Trainer for 6 years. After a particularly traumatic life event in 2016 that turned my world upside down, I began tracking my nutrition along with running & I lost 4 stone - I can well understand how it feels to be at the beginning of a highly challenging journey that warrants much self-honesty & courage.
I like to demonstrate that fitness & lifestyle changes can not only be attainable but enjoyable too & help people to make small incremental adaptations to their daily lives that are achievable & effective.
As a mum myself, I understand the challenges of squeezing fitness - & of course nutrition - into what is usually an already highly animated lifestyle around children.
Specialist Areas
Bespoke plan
Body confidence
Functional specialist
Persistent motivation
Pre and post natal
Weight loss
Qualifications
Level 3 Personal Trainer
Nutrition & Weight Management
Pre- & Post-Natal
Kettlebell Training
In process of studying:
Level 4 Exercise Referral
Level 4 Lower Back Pain Specialist
Nutrition for Sports & Exercise