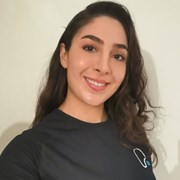 Sama Amlashi
Living and breathing fitness from a young age, with a background in gymnastics and competitive swimming, I always knew my passion for fitness would seep into my career and take centre stage.
For almost the last decade I've been immersed in the health & wellness industry as a Nutritionist and Yoga Instructor - and later, Personal Trainer.
Fitness saved me not just once, but TWICE and helped me overcome anxiety and depression both as a child, and later as an adult.
I fell in love with weight training and it transformed my life. It taught me self-discipline, consistency, commitment, love and respect not just for myself and my body, but a drastic shift took place in every area of my life.
My intention is to help you not only find strength, confidence, love and transformation within yourself as you achieve your goals but to deeply empower you to be your most radiant self, in every area of your life.
I take a holistic approach to training, incorporating weight training, nutrition and yoga (for increasing mobility and decreasing mental stress/anxiety) all into your bespoke training programme (unless you'd prefer otherwise) to bring about PERMANENT TRANSFORMATION from the inside out!
Work with Sama and receive your free Nutritional Assessment and Meal Plan to support you in achieving your goals.
Specialist Areas
Bespoke plan
Body confidence
Body fat reduction
Injury prevention and rehabilitation
Muscle tone and development
Weight loss
Qualifications
Level 3 Personal Training & OPT™
BSc (Hons) Nutrition
RYT-200 Yoga Teaching Certification