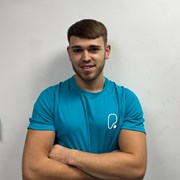 Ross Jeffrey
I know that the gym can sometimes be seen as a tough or intimidating place. So many exercises which one to chose? Am I doing this right? Is this even working for me?I decided to become a personal trainer because I love helping people to get the most out of their training and nutrition.
WHY CHOOSE ME? As well as my personal trainer qual I also have a degree in sports and exercise science. I chose to study sports science because I believe that having that deeper knowledge of exercise and nutrition means that I can offer you the best quality service.
As your trainer I want to give you the most optimal training and nutritional guidance so that you can truly achieve the best version of yourself whether that be providing you a structured plan, weight loss, muscle gain, or just improving your overall mental and physical health.
As well as helping you on the gym floor I also offer online coaching. If you are looking to get the most effective workouts and nutritional advice, just give me an email text, or come and ask me in person.
Specialist Areas
Body confidence
Body fat reduction
Muscle tone and development
Strength and conditioning
Weight loss
Qualifications
Level 2 Fitness Instructor
Level 3 Personal Trainer
Degree in Sports and Exercise Science