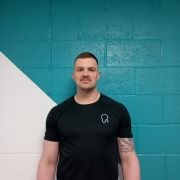 Contact
Log in to view contact details
Rory Williams
Hi, my name's Rory!
Throughout my short lived rugby career I've been blessed to work with some of the brightest minds in sports performance, and apply the lessons learned from the
aforementioned minds to my clients training. 
Don't get me wrong, I'm not saying you'll receive the same horrible sessions I used to be required to do - unless you want to - but I understand what it is to work for a goal, and how different people are motivated towards that.
Training can be fun, and should be, regardless of your ability or confidence level,
there's always something to enjoy within a gym, be it the destination or the journey you have on the way to it. 
If you want to talk come find me, I'm the tall one in the PureGym uniform
Specialist Areas
Bespoke plan
Functional specialist
Muscle tone and development
Sport specific training
Strength and conditioning
Weight loss
Qualifications
- CIMPSPA Level 3 Personal Training
- CIMPSPA Kettlebell Proficiency
- CIMPSPA Circuit Sessions
- UKSCA Strength & Conditioning
- UKSCA Olympic Weightlifting
- UKSCA Speed and Agility
- CS Bulgarian Bag Instruction
- OF Functional Strength Development