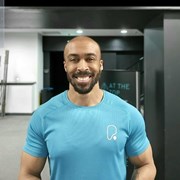 Rommell Brown
ROMMELL BROWN
Hi guys my names Tiger, I have been a PT for just over 10 years helping people lose weight, gain muscle and fit their fitness goals around their work life. I'm trained in boxercise, weight loss and also body building. Wanna grow a great butt I have got you covered

When it comes to health and fitness, i believe in sustainability over all else! Yeah, sure there are great 12 week programmes, 21 day challenges and 90 day transformations, but what do you do after that? Are they even tailored to you or just generic? Do you just jump from one to another?
When working with clients, i like to build from the ground up and tailor everything to YOU. You wont just get a meal plan but I'll teach you to build your own. I'll help you reach your goal without a plateau or generic plans with no direction. 
 if you see me around come and give me shout!
Specialist Areas
Body fat reduction
Muscle tone and development
Weight loss
Boxing