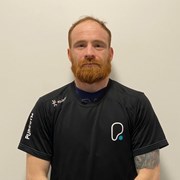 Contact
Free first session offered
Email me
Rob White
My passion is to help others improve their daily lifestyles. Exercise is a major contributor to the health of our bodies and minds. Starting a new exercise regime can be difficult and I want to be there to encourage others not to give up and be able to see the positive changes in their lives.
I started exercising early in my life but only after completing my personal trainer qualification did I truly understand how the body adapts to fitness, the importance of what you eat, as well as the significance of using the right training systems to maximise the effectiveness of every exercise. I want to use this knowledge to help others capitalise on their efforts and success.
I am a 1st degree black belt in TaeKwonDo in which I am a national champion. As with any athlete, during my fitness journey I have had ups and downs, but always come back stronger. I live with a mental health condition which gives me great insight to helping others in similar situations. Exercise was difficult when I was first diagnosed, but now it is the reason for my success in living with it. I will always be a person someone can talk to, whether you are a client of mine or not.
Specialist Areas
Nutritional guidance
Persistent motivation
Special populations
Qualifications
Level 3 Personal Trainer
Nutritional Therapist
Level 2 Boxing Instructor
Kettlebells for Exercise