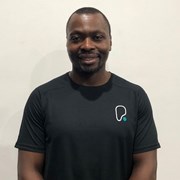 Rangarirai Karumazondo
9 years ago I was slightly overweight and didn't have a lot of confidence, so I joined the gym with my friend and within 6 months I lost 8kgs and became addicted to training at least 4-5 times a week.
I have been consistently training and I love doing classes and callisthenics. I remember I could not do a single pull-up, but now I can do more than 15 with good form.
I realised the gym gave me a purpose and I believe that anyone can achieve the body they want and learn new skills even later on in life. With my support and guidance, training will be enjoyable and rewarding. I will make you realise what your body is capable of and recognise that It's never too late to start training. I can guarantee you results as long as we work together.  I am still on my own fitness journey and I believe there is no limit to what you can achieve.
Specialist Areas
Bespoke plan
Body confidence
Body fat reduction
Muscle tone and development
Nutritional guidance
Strength and conditioning
Weight loss
Qualifications
Certified Level 2 – Gym Instructor
Certified Level 3 – Personal Trainer