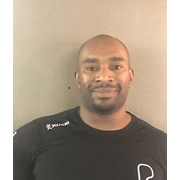 Philippe Davis
With the current climate flooded with picture perfect images on social media; As a whole, it can become quite overwhelming. This can make you beat yourself up follow a radical training method or an extreme diet plan written by some amazing Insta guru.
I am here to tell you NO!
Let us keep it realistic, basic & be honest with ourselves.
If you are looking to improve your fitness level, change your body composition, lose weight or gain muscle, why not be supported in the right way?                   
With a straightforward, healthy and realistic approach to fitness, without trying to reinvent the wheel, I have successfully supported clients with pre and postnatal training, nutrition, postural rehabilitation, body building, conditioning and depression. 
Specialist Areas
Bespoke plan
Body confidence
Body fat reduction
Functional specialist
Injury prevention and rehabilitation
Muscle tone and development
Nutritional guidance
Persistent motivation
Postural correction
Pre and post natal
Strength and conditioning
Weight loss
Boxing
Qualifications
Certified Level 2 Fitness Instructor 
Certified Level 3 Personal Trainer 
Certified Level 3 GP Referral 
Certified Level 4 Lower Back Pain & Management
Occupational Therapy 
First Aid
Pad Work