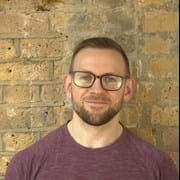 Peter Pazdro
I have worked in the fitness industry for over 10 years. In that time I have trained under coaches in powerlifting, bodybuilding, and strongman.
My approach is professional, friendly, but honest with no sugar coating. I specialise in technique training for the big 3 lifts (*Squats, Deadlifts, & Bench Press), as well as sustained fat loss, aesthetics (who doesn't train for vanity to some degree), and healthy lifestyle changes.
- You can do as many functional & strength movements you like but if you are poor at the fundamentals you are only leading yourself to dysfunction. 
Your commitment will dictate the amount of progress you will make- I will be happy to guide you towards building a solid base.
Specialist Areas
Body fat reduction
Injury prevention and rehabilitation
Muscle tone and development
Nutritional guidance
Strength and conditioning
Weight loss
Qualifications
Level 3 Personal Trainer
CYQ Nutrition & Weightloss
Kettlebell Training