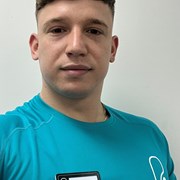 Pete Parfijewicz
Hi, I'm Pete
As a newly qualified Personal Trainer, I bring a wealth of experience and dedication to my craft. With a passion for health and fitness that has spanned 7 years of my own personal journey, I understand what it takes to achieve peak physical condition and push past one's limits.
Through my own personal journey, I have developed a keen understanding of the importance of discipline, perseverance, and goal-setting. As a result, I am a uniquely equipped to help my clients achieve their own fitness goals and unlock their full potential.
Whether you're looking to build muscle, shed unwanted pounds, or simply improve your overall health and well-being I am committed to providing you with the personalized support and guidance necessary to succeed. With a proven track record of delivering results, I am confident that I can help you transform your body and achieve the fitness goals you've always dreamed of.
So, if you're ready to take your fitness to the next level, I invite you to join me on this journey. Together we can achieve greatness and unlock your full potential.
Specialist Areas
Bespoke plan
Body confidence
Body fat reduction
Functional specialist
Muscle tone and development
Nutritional guidance
Persistent motivation
Strength and conditioning
Weight loss
Qualifications
Level 2 Fitness Instructor
Level 3 Personal Trainer