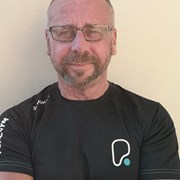 Pete Jenks
I have been teaching for over 30 years in gyms and secondary schools in Hampshire. I've always enjoyed teaching and found I had a passion and a talent for mentoring and training others in a variety of ways.
In my late twenties I pursued semi-professional Bodybuilding which led me to regional competitions where I had great success for four years. I trained with the British Power Lifting Team and trained various members of Ballet Rambert and The Chippendales: I was a 'Chipmunk'!
Time for a career change – so, I became a secondary school English and Media teacher, mentoring both the students and student teachers for 15 years. Throughout, I remained an active member of the gym, continuing to train as I had when bodybuilding, coaching other gym members and preparing them for competition.
Teaching in schools to various ages and abilities provided me with confident and advanced planning skills which, applied to personal fitness, will give you tailored sessions based on your personal fitness needs. My years of experience in bodybuilding means I can offer a wide range of training methods from cardiovascular workouts, free weights or resistance training – or a combination of all three. However, all sessions must be enjoyable, achievable and fun. I can also advise on nutrition for weight loss, muscle condition and muscle gain. 
I am happy to train one-to-one, pairs or small groups: whichever is comfortable for you. 
Please contact me on the email or phone provided.
Specialist Areas
Body confidence
Body fat reduction
Muscle tone and development
Strength and conditioning
Weight loss
Qualifications
BA(Hons)
Post Graduate Certificate in Education (PGCE)
Level 2 Gym Instructor
Level 3 Personal Trainer
First Aid
BAWLA Qualification