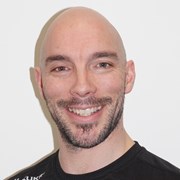 Contact
Free first session offered
Email me
Paul Wignell
Hi, my name's Paul. I'm a self-motivated Personal Trainer with a passion for health and fitness and helping people achieve their goals. People often say I was born with a pair of running shoes on my feet, and along with finding a love for running at an early age, I also discovered martial arts, both of which I still actively pursue.
Everybody has a different reason for joining the gym, but the one thing you all have in common is the desire to get results! Unfortunately, many people spend years at the gym and most never achieve the results they desire. I don't want that to be you!
To achieve results, no two people can be trained the same. I'm committed to helping you as an individual, which is why I'll design programmes tailored personally for you, to fit your specific needs, ensuring that you achieve your goals and get the results that your time and efforts deserve!
You may not believe that what you want to achieve is possible, but I'm excited to tell you that it is! Anything is possible as long as you have everything you need. I believe you have everything in you to achieve your goals, so come and find me in the gym, and together we'll make your health and fitness dreams a reality!
Specialist Areas
Body fat reduction
Sport specific training
Strength and conditioning
Weight loss
Qualifications
WABBA - Senior Instructor Certificate
WABBA - Advanced Weight Training and Kinesiology
WABBA - Advanced Sports Programme Writing
WABBA - Advanced Fitness Assessments
WABBA - Advanced Nutritional Studies
WABBA - Advanced Flexibility Studies
WABBA - Diploma In Personal Training
TRAINSMART - Advanced Cardiovascular Training & metabolic Profiling