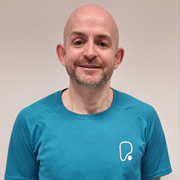 Paul Whydall
My own personal fitness journey began just like everyone else's, wanting to make a change in my life, wanting to lose weight, get healthier (and to look good) however like many I didn't have a clue where to start. For around the first year of my training I was doing everything wrong, from weight training and cardio to nutrition. It wasn't until I first hired a PT myself that I finally began to learn the basics, from there my passion blossomed and I became hungry to learn as much as possible, eventually leading me to want to help people achieve their goals, help them be the person that they want to be and to spread as much knowledge as I physically could.
Through my own experiences, I know just how valuable getting help can really be if you're have years of ready to commit to a change, whether you're completely new to the gym or experience, consider letting me help you get where you want to be.
Don't hesitate to find me in the gym or contact me via email or phone to book a free consultation, I look forward to joining you on your journey!
Specialist Areas
Body confidence
Body fat reduction
Muscle tone and development
Pre and post natal
Sport specific training
Weight loss
Qualifications
Level 3 Personal Trainer
England Athletics' accredited running coach
Pre & Post-natal specialist