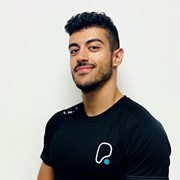 Parsa Zadrafiei
As a chubby 14-year-old lad who couldn't run 10 metres without going into cardiac arrest, I would envy all the athletic guys at my school with 6 packs.
I reached an age where I needed to do something about my lack of body confidence asap. So I flicked the Argos catalogue open and bought the biggest set of dumbbells they had. My teenage years ended up with me spending countless hours glued onto whatever YouTube and Bodybuilding.com articles I could find, learning every detail I could about the gym.
I then applied everything I learnt - both to my body and disciplining the mind. I have since been chubby, skinny and eventually muscular…ish. I've lived in all kinds of body types, so I know how they each feel. Especially on your psyche, confidence and self-image.
As your Personal Trainer I am and will be more than someone who tells you to squat and count reps for you.
Over the years I've combined my passion for calisthenics, bodybuilding and studying human behavior to develop coaching that affects both your way of thinking and actions outside of the gym.
I want to help you develop a growth mind-set where problems are no longer problems. They're challenges that need to be conquered.
Whether you're at a hectic 9-5 city job, a full-time parent, losing weight for your wedding or prepping for a powerlifting competition, I will help you create the daily habits and behavior changes necessary to demolish your goals and set you up for a life of self-sufficiency in fitness and health.
My job is to teach you how to fish, not to hand the fish to you. We will have succeeded together if, after a period of time, you no longer need my help. I will be your guide and mentor until you have built the foundations to venture off on the journey of self-development yourself.
I believe everything is figure-outable. It just takes careful planning, relentless drive and focused commitment to achieve it.
Feel free to contact me by phone, email, Instagram or come say Hello if you see me in the gym!
Specialist Areas
Bespoke plan
Body confidence
Body fat reduction
Functional specialist
Muscle tone and development
Nutritional guidance
Persistent motivation
Sport specific training
Strength and conditioning
Weight loss
Qualifications
- Level 3 Personal Trainer
- Level 2 Fitness Instructor
- First Aid Certified
- MSc Marketing
- BSc Chemical Engineering