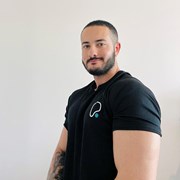 Ozkan GurGur
Whether it be to become healthier, lose weight, build muscle or simply just tone up,
with over 12 years experience in sports and physical training, I will help you achieve these goals. 
 Getting into the best shape of your life is not difficult when you have someone experienced enough to guide you through your journey.
As we all know training & nutrition go hand in hand. I am here to offer you a custom-made training & meal plan with everything you need to know to reach your desired physical & health goals. 
 Exercise can brighten your mood, stave off depression, and increase energy. It releases powerful neurotransmitters called "endorphins", reduces your risk for heart disease, osteoporosis, diabetes, obesity, arthritis, high cholesterol, and many cancers.
 Changing people's lives is not work for me its a passion, i have done it for myself countless times, now its time to change yours. To get started simply send me an email with the link above.
 See you in the gym! 
Specialist Areas
Body confidence
Body fat reduction
Muscle tone and development
Nutritional guidance
Strength and conditioning
Weight loss
Qualifications
Level 2 gym instructor
Level 3 personal trainer 
APA Qualified in nutrition
APA Qualified in health supplements 
APA qualified in sports supplements